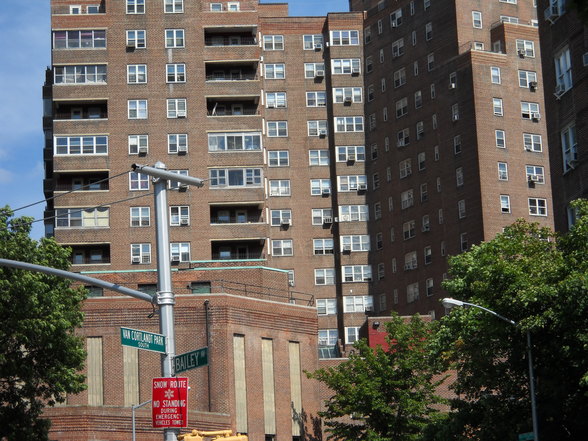 Van Cortlandt Village, The Bronx
by nabewise
Infomation
An elegant mix of apartments and multi-family homes, Van Cortland Village is a subsection of Kingsbridge Heights and is marked by its neighborly and tranquil nature. Fortunate apartment residents are offered a view of the Jerome Park Reservoir. The nabe is in close proximity to its namesake Van Cortland Park as well as Lehman College. The neighborhood is served by the 1,2, and 3 trains.
Top Votes – Score out of 100
Green space 80
Pet friendly 75
Quiet 75
Seniors 74
Empty nesters 73
Lowest – Score out of 100
Parking 50
Nightlife 45
Dining 40
Shopping 40
Income 5
Top Reviews from Travel Rentals Neighborhoods
It's nice to see a place in the Bronx that is green and neat and entirely out of place. Places like Van Cortlandt Village are well kept and expensive secrets around here, and while I certainly couldn't afford to live here, I can – and do – admire from afar.B
There is something about Van Cortlandt Village that is reminiscent of a distant suburb, or a European community. Perhaps it's the charmingly designed apartment buildings, or the quaint, tree-lined streets… but Van Cortlandt Village is definitely a jewel of the Bronx.

It lies atop several hills between Riverdale, Kingsbridge Heights, and Bedford Park. Streets can be tough to walk along because of their vertical natures, but this problem can be alleviated by usage of the Bx10 bus. There are small supermarkets and restaurants. Kingsbridge and Riverdale provide further dining and shopping options. Bailey Avenue is home to a few decent bars and restaurants, however.

Living here is great for a family or older couple who want peace and quiet, but with the charm of a city. The neighborhood is safe, clean, and diverse, and superb schools are nearby in Bedford Park andRiverdale.Amelia
Van Cortlandt Village- A Place for Families

Van Cortlandt Village is a very special place for families and students. A key central point is Lehman College, right next to the Jerome Avenue and Bedford Blvd #4 train station. On campus is the Lehman Center auditorium, a venue for first-rate entertainment acts that perform in front of large audiences. Tree lined streets surround the nearby water reservoir across from Lehman College. A narrow, but fun-filled park for parents and children is the Ft. Independence Park. At Sedgwick Avenue there is a C-Town supermarket, and other local shopping.

Further to the northwest is the fun Bailey Avenue Park, in an area with a mix of apartments, and multi-family houses between the Major Deegan Expressway on the west, and the coop complex Van Cortlandt Village, down to West 225th Street. Van Cortlandt Village itself is a large cluster of 12 buildings nestled along the southern boundary of the huge Van Cortlandt Park, and is an old utopian experiment in cooperative living. There is a long wait for these coop apartments, and since they must be sold back to the corporation when a family moves, the price of these apartments is kept at around $30,000. Naturally, there is a years-long waiting list to get into Van Cortlandt Village.

The surrounding area is mainly a quiet place to raise families and to rest after working downtown, and there is also excellent highway transportation north into Westchester County. Rents are relatively low even in the pretty areas near Van Cortlandt Park. This area is also close to great shopping on nearby Broadway. Some of the areas further south near Kingsbridge Avenue can be a bit more rundown, although there is some new construction in the area as well. Bodegas alternate with small shops and check cashing stores. Nightlife is dominated by working-class bars and restaurants onKingsbridge Avenue, including the popular Mexican restaurant and night spot, Montezuma.

Howie G.