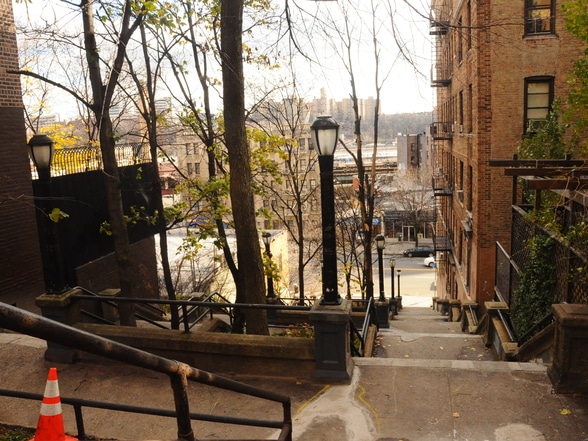 Infomation
Inwood is the northernmost community on the island of Manhattan, just north of Washington Heights. Home to a large park, a natural forest, and a salt marsh, Inwood is a place where one can find access to urban living without losing the joy of a pastoral, post-dinner walk. Inwood includes the Dyckman Public Houses as well as some more mid-level apartment spaces with nice views of the Harlem River. Inwood is served by the A train and the 1 train.
Top Votes – Score out of 100
Green space
93%
Green space 93
Pet friendly 88
Gentrifying 88
Families 84
Community 73
Lowest – Score out of 100
Income
4%
Singles 50
Nightlife 48
Parking 42
Shopping 38
Income 4
Top Reviews from Travel Rentals Neighborhoods
Inwood should be renamed "INwood"
Inwood is located in the Northernmost tip of Manhattan (New York City), NY. It is as much a bustling city as its neighborhoring counterparts, Riverdale (Bronx, NY), andWashington Heights.
Shopping, eating, and living can all be easily accessed on West 207th Street, Broadway, and Dyckman Street. The neighborhood boasts a delightfully diverse community and affordable, convenient living. Bus and train are also easily accessible from these locations.
If you are eclectic, enjoy a bustling neighborhood that comes alive with the sound of sirens, music, people, and traffic, then Inwood is the neighborhood for you. Don't move to Inwood if these characteristics aren't attractive to you, as you will quickly burn out from its noise and speed.
jeanelle r.
Well, to be perfectly honest, I only moved here because I was priced out of Manhattan. I said, as does everyone else who considers living up here, that it was way too far away but you get used to it. I have a decent view of the park from my apartment, it's nice and cheap, and I am starting to hear some murmurs about an arts community coming together around Inwood which would be nice because always going into town for entertainment sucks on a weeknight after I've come back from work in town.
Jeff M.
A Wonderful Neighborhood On The Way Up
Inwood is a sleepy residential neighborhood at the tippy top of the island of Manhattan. Still relatively inexpensive compared to the rest of the city, it won't stay that way for long. Artists and musicians discovered this gem years ago and everyone else is catching on.
Inwood is gentrifying, and that results in some tension with the Dominican community, but for the most part everyone here gets along.
There are some fantastic dining choices up here and more restaurants are opening up here all the time.
Inwood has Inwood Hill Park, a gigantic park with the only natural forest left in Manhattan. Isham Park and the northern part of Fort Tryon Park (which contains the Cloisters) also make Inwood a very green and dog friendly 'hood. There are dog runs in Inwood Hill Park and Fort Tryon Park.
It's easy to make friends here. The neighbors are friendly and eager to help you if you need it! I love Inwood and I plan on staying here 🙂
What's awesome
shakespeare in inwood hill park, drums along the hudson, the cloisters, taikoza in isham park, the nature center, restaurants, sherman creek, indian road playground
What's not so awesome
litter, speeding livery cab drivers
Rachel F.
I'm living out at Dyckman and it's alright. My family lives here with me and we all like to go on walks out in the park on Sundays. I wish the city would hurry up and get us some waterfront access though. Train options are real limited too. It's cheap though and I love living around the Dominican community.
Mary B.
A diamond showing its facets one by one
I have lived in the neighborhood for 3 years now and worked a year renting apartments in the neighborhood, and I've found new and interesting dynamics with the area. Side streets that leads to quiet tree-lined blocks to parks of all sizes sprinkled throughout the whole neighborhood. A diamond in the rough that is quickly developing a sparkle.
What's awesome
The Huge parks in the neighborhood, specifically Fort Tryon Park and Inwood Hill Park
What's not so awesome
Parking
Maxwell J.
coolest park in NYC
Everyone in NY needs to visti Fort Tryon Park—it's super magical. It's smaller than central park and feels way more like an actual park to me—wooded areas, cool hills and stone steps, some pretty secluded areas for, er, secluded things, plus some of the best views of NJ over the river. The neighborhood around here is quiet and nice. Something about it makes me feel a bit like I'm back in the 90s, but hey, I loved the 90s, rock on.
Alex P.
NEARBY NABES
Washington Heights
Riverdale / Spuyten Duyvil
Kingsbridge Heights
University Heights
Marble Hill
Morris Heights