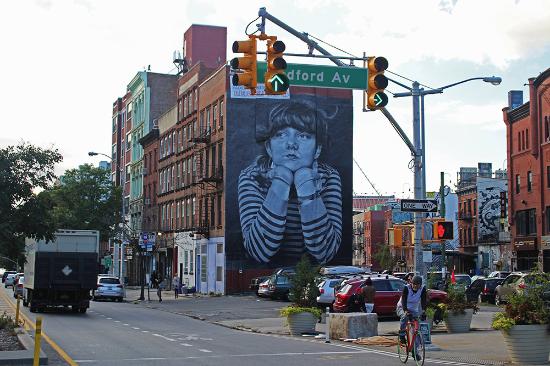 Williamsburg , Brooklyn
by nabewise
Travel Infomation
Adjacent to Greenpoint in the heart of northern Brooklyn, Williamsburg is considered to be the center of hipster culture in NYC. In the last ten years, Williamsburg has evolved from a mostly industrial warehouse neighborhood into an enclave of vintage boutiques, foodie eats, and indie music venues. However, Williamsburg still has quiet streets and family-run bodegas, especially away from the main drag, Bedford Ave. Housing here is mostly composed of apartments, row houses, and some new luxury condos. Rock on, Williamsburg!
Top Votes – Score out of 100
Gentrifying 92%
Pet friendly 90%
Singles 89%
Nightlife 84%
Trendy 83%
Lowest – Score out of 100
Empty nesters 45%
Quiet 44%
Parking 43%
Seniors 22%
Income 9%
Top Reviews
Battle of the Beards, Hassids vs. Hipsters

Bike. Stroller. Bike. Stroller. These two vehicles seem to dominate the streets in Williamsburg, Brooklyn. Though both happen to be ecologically friendly contraptions, they serve very different purposes and carry very different passengers.

On the bikes you will most likely find young, tattoo-covered, scruffy sneaker-wearing artists, and in the strollers you will detect a snugly swaddled toddler, being pushed by a parade of dark cloaked men in black hats with sage-like beards accompanied by their head-covered wives leading their train of overly dressed children. Presenting; the hipsters and the hassids. Beards are prevalent in both communities, but that is where the commonalities stop.

Around fifty years ago, Orthodox Jews began to migrate to Williamsburg where they built a reputable, religiously oriented environment for themselves and their families. Complete with kosher restaurants, yeshiva high schools, and plenty of space for Saturday afternoon strolls, everything was coming up knishes for the hasidic community. But several decades later, like the wicked witch from the west on her gothic bicycle—-at least from the hassids' perspective, in poured local artists attracted to the music scene, funky galleries, and overall—-the low rent.

One almost hopes for a musical to emerge on Broadway, portraying a likeness to the feud between the Jets and the Sharks in "West Side Story", except tight-shirted gangsters would be replaced by conservatively dressed rabbis and trendy vintage tee-shirted, prescriptionless black-rimmed glasses in this finger snapping duel.

Regardless of the rather comical dichotomy that divides the ongoing gentrifying neighborhood, Williamsburg has more than just material for a killer sitcom to offer New Yorkers and visitors to the city.

Trendy cafes, independent bookstores, eccentric thrift shops, art galleries and plentiful music venues are sprouting up at a more rapid pace. However, it has not been long since Williamsburg was considered a raggedy and even dangerous neighborhood. While the area has cleaned up certain of its less savory historical aspects, the "Burg" as many locals call it, has maintained elements of its gritty, unpolished flavor. Perhaps for a family looking for homes in Greenwhich, Connecticut, such rugged traces would prove unappealing, but New York City is arguably lacking in this pre-ironed, pre-gentrified character. The streets of Williamsburg feel authentic, and the diverse community that comprises it echoes the original virtues of old New York.

Against the odds, the rent has managed to stay relatively low in the neighborhood—-though the relative real estate scale in New York City is about as comforting as a serial killer telling you you can have your toes back after he cuts them off. However, young writers and musicians are making it there and if a hassidic stroller pusher and ukulele toting cyclist happen to collide when rounding a corner—-well, that's just New York for you.

Maya K.
I've worked for an internet start-up in Williamsburg for a couple of months and I like it out here. It is a real pain to find a normal sandwich, they tend to be named, organic sandwiches on specialty bread, delicious and expensive, but that is just my provincial tastes shining through. I've seen some shows here and my band rehearses here too. I like it here and I also like that if it really came down to it and I had to fight someone in Williamsburg, I could probably take most of the malnourished dudes in this neck of the woods.Nick G.
Valid Reasons why so many choose Williamsburg

Ironically, it's become trendy to rag on Williamsburg and those who live there. Frankly – it's annoying. Not to mention pretty ignorant, based little on actual experience, and most on judgmental observations. Much of which are second hand. Pretty much anyone who lives here, and god forbid rides and bike and wears dark color clothing – is automatically designated a "hipster". It's the grammar school mentality of picking on people different from you/or what you are used to and it's getting old.

Growing up in New York, I would move through and hang out in different neighborhoods as I got older. In college – I loved the West Village. After college – I was always in the East Village/Lower East Side. A few years ago, I started gravitating more towards Williamsburg for the food, and overall vibe I felt when going out for a drink. Despite the
rent being insanely high in certain areas, eating & drink here is relatively inexpensive compared to Manhattan. Not to mention there is SO much to choose from, that I rarely feel the need to venture elsewhere. Before I moved, and since being here (now a year) – I've always found myself among a great company of people. Smart, intelligent, funny, and creative. Have I met douchebags? Of course, but they exist in every part of the city and I don't feel there are a higher number in Williamsburg. I've met people who have now become really great friends. Even met my gf in the building in which I live! Not to sound dramatic, but my life became infinitely better, and I am much happier a person since I took up residence here.

There is something for everyone. From a nightlife scene that is loud & crazy, to something more subdued and quiet like a cozy wine bar. Beer gardens, to cocktail lounges that serve inventive (yet affordable) drinks. There are still people who have lived here decades – and I currently live in an area (Technically I'm in East Williamsburg) with a pretty big Italian American community. Biking down Graham and its side streets, I often hear little old ladies speaking Italian to one another. There's this guy who sometimes sits outside blasting Italian music. It's charming. On a related note: Savinos Quality Pasta has AMAZING fresh pasta and sauces (the vodka sauce is incredible) for dirt cheap and Il Passatore restaurant serves mouth watering delicious dishes. Both, I can get to within 5 minutes. Rent is cheaper here than Williamsburg proper, but more than Bushwick and some areas of South Williamsburg. I feel completely safe walking around – and like being away from the busier and more crowded Bedford ave area.

On weekends – I am perfectly content biking around all day. Brunch – then along the Williamsburg Waterfront to relax and take in one of the best views of the Manhattan skyline, or simply walking along Bedford going in and out of shops. At night – I can see a movie 8 minutes away from my apt at Nitehawk Cinema – which has become my favorite movie theater in all of NYC. There are some great music venues and one of my favorite concerts (The Foals) was at the Music Hall of Williamsburg. If I want to go into Manhattan in the E.Village/LES – it's a quick ride over the Williamsburg Bridge. If I rode the subway (I bike everywhere) – The L gets you into the city in 10 minutes. Another favorite mode of transportation I love taking especially if it's rainy – the Ferry! Gets me to my job in DUMBO in 10 minutes, and Wall Street or 34th – in 15/20.

I truly enjoy showing Williamsburg to those who are not familiar with the neighborhood and it's changed the minds of many who had a preconceived notion of what it's like here. I welcome any and all questions from curious minds.

The neighborhood isn't perfect, but what nabe is? High rent prices are driving people out into Bushwick, Clinton Hill & South Williamsburg. There are areas that are still not completely safe, and certain sections are pretty ugly but I feel the positives outweigh the negative. Even if I decide to one day move to a nearby hood – I would definitely find myself hanging out here often. There are just way too many places I have yet to try and things to do.

I love the proximity to the city, yet every time I ride down the ramp, and turn the corner of S 4th, heading up Roebling, I feel a sense of calm come over me, because I'm home.

What's awesome

food lovers paradise, proximity to the city, diverse, creative, artistic, skyline views, music scene

What's not so awesome

high rent, those damn trucks on Metropolitan, having to constantly defend living here, bike theft

Daniela A.
Beauty & Grace

I chose the title above because I was lucky enough to live in the lap of luxury, across the street from the Bedford Avenue L train station, on Bedford Avenue in North Williamsburg.

And now for the downsides. My bedroom had one small window—to the kitchen. Don't get me wrong, the kitchen with its wide paneled pine flooring was lovely, but didn't provide much in the way of natural light. The L Train does not dip below 14th Street in Manhattan, and I love the Lower East Side in terms of nightlife and daytime hoofing, and it is the nearest train in sight. Underagers from far and wide are keen to vomit on your doorstep. Overagers, too. The main streets are loud until 4 A.M. most nights, and because I lived on top of a restaurant (how New York), we shared our apartment with a family of mice.

But mice do not discriminate, so let's dwell on the positives. Williamsburg was the best first place to live in New York, and I'm glad I moved in at the beginning of summer, when there were free concerts every week and outdoor street vendors at all hours of the day. Young New York converges on Williamsburg like it's a Fashion Week runway—fully bedecked in straight-off-the-cover footwear and accessories. People come to Williamsburg to look good and get looked at, so come prepared to do both.

Let's not shy away from the truth. Williamsburg is not worth the price for what you get in terms of space. Not to mention, to sustain an upscale bohemian lifestyle here, you find yourself trekking outside of the neighborhood to buy reasonably priced groceries, eat in affordable restaurants, and shop at well-curated secondhand stores. When I say well-curated, I mean nothing more than the clothes are clean, cute, and priced fairly.

My tone may be sharp because I was gently priced out of the neighborhood when my landlord found he would make more money from patrons than tenants, so my dear converted 2-bedroom apartment with the window to the kitchen will soon be a restaurant. Check it out, and tell the mice I said hey.

Sanyu
Williamsburg Is the Next Williamsburg

New Yorkers hear the phrase often: "[insert neighborhood] is up & coming. It's the next Williamsburg!" So what is Williamsburg? An edgy artist neighborhood filled with art galleries and creative-types? A puerto-rican enclave with some of the best arroz-con-gandules in the city? A less yuppified version of the East Village? A home to many established film, television and music stars? A heaven for foodies and local-vores? A former industrial area known for some of Brooklyn's ugliest architecture? Home to some of the best Manhattan views anywhere? A hasidic Jewish area whereNYPD and rabinical police patrol the same blocks? Williamsburg is all of these and more. I have lived here for seven of the last ten years and recently purchased a condo here. it is hands-down my favorite neighborhood in the city!

Roberto Gonzalez
The Old becomes New to become Old again

Williamsburg mushroomed from a nabe of ultra-orthodox Jews and abandoned waterfront warehouses into hipster-central over the past couple of years. The short 2-3 stops to Union Sq on the L train are a huge draw to Manhattanites who are tired of paying really high prices to live in really tiny spaces. The life-sized views of the Manhattan skyline are also not too shabby.

While old (and new) residents continue to grumble about gentrification, the steady build up of spanking-new condos with names like 'Century Vintage" and "The Grand" has provided a dusty old neighborhood with a lifeline to the outside world. If you think the new developments look too much like transparent boxes with their all-glass walls, there is always the option of renting a converted meat-loading warehouse complete with a loading ramp. Sure it's commercial space and renting is probably not too legal ("not too legal" is a thoroughly made up term and in no way reflects the NYC legal code), but who's really counting here?

A huge plus are the dining/nightlife options here. A trip to SEA Thai Bistro on N6th Street is an initiation into the New York art of waiting for close to an hour for really good (and really cheap!) Thai food. No one seems to mind since the bartenders mix generously alcoholic Mojitos and Lychee Martinis while you wait.

A quieter option is D.O.C. Wine Bar on the corner of N7th St and Wythe Avenue. This tiny Italian restaurant is my dirty little secret in the neighborhood. The weathered wooden tables are decorated only by a few dim candles and some unidentified (but very fitting) dried farmhouse vegetables. A must-try is the Tiramisu, a desert so close to perfection here that you'd think it flew in directly form Italy that day. The menu is surprisingly inventive for such a tiny place and the wine list was described to us by the waiter as (and I quote) "f'ing amazing." And you know what? It f'ing was.

Diana S.
Hipster central. Real trendy, lots of artsy. It's a young crowd. Some gritty, some great nightlife.

What's awesome

Richard H.
Lesser known things about Williamsburg

*There are now a lot of young families in Williamsburg -the hipsters are having babies! -There was a recent NYTimes article on this.

*This is a great neighborhood to be an entrepreneur -a lot of the creative talent lives in this area and loves this neighborhood, so you get great access to talent. There are also still some funky affordable spaces where you can set up shop for cheap, and there is a culture of helping people get started, so it's easy to find someone who has office/creative space and rent a corner from them.

*This is probably the best neighborhood for cheap, amazing food, imho.

*If you are a woman and you want to rent an apartment, a lot of this area is owned and managed by Hasidic jews who won't talk to you (I wish I was joking!). You'll have to bring a man with you….

What's awesome

Creative, artistic, great cheap food

What's not so awesome

Hipster cliches, be prepared to defend if you live here.

ann
A trendy, gentrified, quaint evolving neighborhood.Autumn A.
Williamsburg, Where the Young Folk Flock

A Never Never Land for twenty and thirty-somethings, Williamsburg is Brooklyn's industrial hood turned hipster hot-spot. Walk a few blocks and you'll likely pass two thrift stores, an organic grocery, at least four bars—each sporting a gimmick like free pizza slices or vintage board games—and not a single gray coif (unless it's been dyed, a growing trend in the area). Enjoy lots of live music and outdoor highlights like the notoriously shadeless McCarren Park, and a skyline-view waterfront spotted with small parks. If you need to escape the age concentration, take advantage of the hood's convenient L train and hightail it to Manhattan in ten minutes' time.

Katie P.
Did you go to a pretty good liberal arts college, full of quirky hipsters and too-cool-for-school artists adn creative types? I did. And I fit right in. I rock skinny jeans, huge glasses, and CARDIGANS. More importantly, I'm skinny enough to pull the look off (I've never seen a fat hipster!). As a result, I barely stood out when I visited Williamsburgland, as I like to call it (my glasses are usually a main attraction, people usually do a double take because of their size!). Coming from Kenyon College, it was nice to find a place full of equally young and artsy people to spend my winter break with.
If only I could find a place to live there! Everywhere I went with my friend, finding affordable housing (for a college student in this awful economy) was kind of difficult. The food was pretty pricey too, but the Deli down the street from McCarren Park makes paninis to DIE for. I plan to return, however, on the L train with a fleet of my hipster friends, because shared housing seems to be the way to go in Williamsburgland the Great. PS-Newtown Creek=Nature's Paradise!Kafui
The Williamsburg proper, McCarren Park and the grid of streets to the south, is settling in as a real fixture of New York City. It's no longer truly the hip, up-and-coming place it recently was. The area is well-known and the community of largely younger people is well established. The area around Bedford Ave has become a lot like Park Slope in its pleasant walking atmosphere and wide variety of stores and restaurants.Anthony M.
Great Neighbors

The Burg gets a bad rep sometimes for having rambunctious and drunk hipsters but there are those that have lived here for years (sometimes even decades) who are really friendly and great to converse with. Once you meet one, you end up meeting a whole bunch of them. Really great people and always down to lend a hand.

Jeffrey N.
Williamsburg for the longest time was one of the most dangerous neighborhoods in Brooklyn. However very recently it has completely gentrified as local artists flocked towards the very low rent. But because of this migration of artists, bohemian cafes and bars began to sprout, drawing a hipster crowd. Now Williamsburg is one of the trendiest neighborhoods in the city, and the rent is comparable to that of Manhattan. The general demeanor of Williamsburg is `spend a lot of money to look like you have none.' And many visitors can find this pretentious and annoying. The air in the area can sometimes be exclusive, which is intimidating. However if you are immune to this, or simply don't care, it can be a fun and "cool" place to live. It's also just one stop into Brooklyn, which is appealing to the Manhattanites who swore they'd never live in Brooklyn.Beverly W.
People rag on Williamsbug (including myself), but there are definitely some good reasons to live or just hang out around there. It is the heart of the Brooklyn music scene (which means the heart of rock these days), so there's lots of good clubs, bars, and venues. Rent is pricey, but there's a cool community vibe there.bbb
Williamsburg , lost it's Ny Flava

If you are as old as I am then you no longer recognize Williamsburg. It's not that I liked the crime before I did not. But when the crime left so did the flavor. Now Williamsburg has been taken over by transplants who are considered to be "hipsters." My issue with them is that they are clones and conformists and have effectively stripped parts of Brooklyn of it's flavor, personality and creativity. Williamsburg might as well be the deep south now.
"Hipsters" started moving in in the late 90's but were not that noticeable and had not changed Williamsburg yet.
After 911 rents dropped all over NYC and NYC was humanized to the world. It was after 911 that Williamsburg changed dramatically and lost it's personality I believe. Now in 2011 if you know a white guy from Ohio or Indiana who is not familiar with NY and is moving here people will tell him to move to Williamsburg where all of his neighbors from the Midwest have moved. I am not against people moving here from anywhere. But what used to happen is those people appreciated NY for what it is. What Williamsburg residents have done is brought their hillbilly ways with them and done away with any Brooklyn culture. Williamsburg is now any town USA. A good example of a diverse true blue Brooklyn neighborhood is Brighton Beach Brooklyn. It still has flavor. I remember a time when if anyone was in another city or even in Manhattan and they said they were from Brooklyn (almost any neighborhood) they were to be feared.
Here is a little history lesson Williamsbug is where the famous police officer Serpico is from which inspired the movie with Al Pacino. http://www.imdb.com/ti…
If you look up renovation of Williamsburg on the internet the credit will be given to rezoning. I am sure that had something to do with it. But really 911 was the turning point that changed many of the NYC neighborhoods to neighborhoods that could be in any town USA. Many ethnic restaurants closed and in it's place opened "hipster" restaurants. I have been to some of those restaurants and I am not saying they are bad but they could be anywhere. If you compare it to Brighton Beach Brooklyn and how it has it's own quirky flavor you can see how Williamsburg has been stripped of it's essence and is now a joke to the rest of the country.
Benjamen Bugsy Siegel and Al Capone are from Williamsburg.
Here is an interesting article on the cultural changes in Williamsburg. http://nymag.com/reale…
I know I sound like your grandma talking about the good old days , but living in NYCand Brooklyn meant you had some edge. Now it just means you look and act exactly like your neighbors.
Please watch this video. It is clear that much of Brooklyn is infected by the "hipster." http://www.huffingtonp…
http://stuffwhitepeopl…/

Pinky P