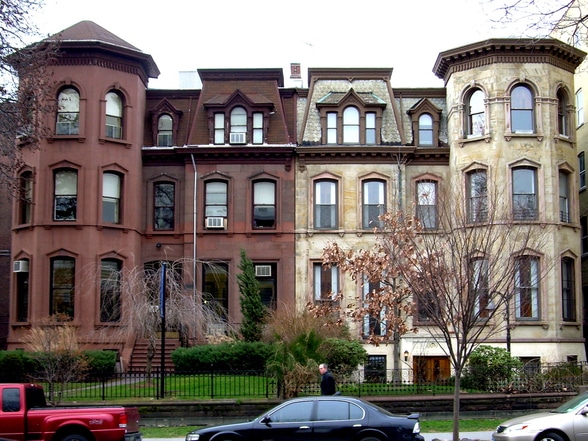 Clinton Hill, Brooklyn
by nabewise
Infomation
Clinton Hill is home to Pratt Institute, brownstones, and beautiful late 19th century mansions. The area is a mecca for students, creatives, and families seeking a more affordable alternative to Manhattan, or even from neighboring Fort Greene. Home to brownstone-restoration enthusiasts, Clinton Hill is also celebrated for an ever-increasing number of foodie restaurants and independent boutiques.
Top Votes – Score out of 100
Pet friendly 93
Gentrifying 91
Dining 86
Singles 82
Safety 81
Lowest – Score out of 100
Shopping 70
Green space 67
Parking 64
Public Transportation 64
Income 13
Top Reviews from Travel Rentals Neighborhoods
Clinton Hill: Home for Any and Everyone

A former Pratt Institute student, I've been living in Clinton Hill for just over four years now. In this short period of time, I've seen the nabe evolve rapidly into one of Brooklyn's more popular spots for living and visiting alike. A mid-way gentrified economic and cultural melting pot where bulldogs and babies walk the streets in harmony, this neighborhood holds the perfect mix of class and grit. While its Bed-Stuy borderline and slow-going G train keep real estate prices relatively low, Clinton Hill plays home to tons of mom and pop shops, global gastronomics (Thai, Italian, French, Mediterranean, Indian, South African), and tons of green space thanks to Pratt grassy campus (complete with outdoor sculptures and free-roaming cats) and nearby Fort Greene Park. Mugging is still an issue here—be smart and aware when you're out at night.

Clinton Hill's best spots to…

drink coffee and get work done:
Bittersweet (Dekalb @ Carlton, on the Clinton Hill)

find a last-minute gift (for a lady):
Barking Brown (Myrtle between Washington and Hall St.)

eat lunch:
Choice (Lafayette @ Grand)

eat a classy dinner:
Chez Oskar (Dekalb @ Adelphi, technically in Fort Greene)

chill and have a drink:
The Emerson (Myrtle between Emerson and Classon)

eat a late-night sandwich (before 2am):
Hyun's Deli (Myrtle @ Hall St.)

Katie P
Living off the G Train

Clinton Hill is not much of a secret anymore, though for the studious sleuth searching for an apartment, deals can be found. While prices for brownstones and condos in the area have skyrocketed recently, forcing more moves into neighboring Bedford Stuyvesant and beyond, Clinton Hill retains some of it's working class charm while embracing the artsy silliness of the usual Pratt student. Coffee houses and bars have sprung up on most every corner now, but roughly a storefront or two down, you'll find an autobody repair garage or perhaps a long time restaurant that has weathered the years. Couple this with the area's impressive array of historic and charming architecture, and it makes for a strong community.

For starters, Clinton Hill has both a northern and southern section. Myrtle Avenue to the north, infamously called "Murder Avenue" in it's less than happy days is the main commercial strip, and is served primarily by the nearby G Train, which despite constant complaints, has gotten progressively better over the years in terms of service. Towards the south is Fulton Avenue, which is served by the A and C, providing direct service to Manhattan. In between these two business districts are a handful of shops, bars, restaurants, cafes, the typical bodegas, a handful of mid-sized supermarkets, and it's two main anchors, Pratt Institute and St. Joseph's College.

In some ways, the spillover from Fort Greene has brought popular restaurant expansions and slightly upscale eateries, such as the croissant and BLT slinging masters at Choice Market with their newly openend Dough bakery, which preps up gourmet donuts daily. For those of us on a budget, the average albeit quaint coffee shop like Mike's on Dekalb Avenue provides solid coffee, and for the best bagel in the borough, Bergen Bagels on Myrtle Avenue will gladly give you bagel sandwiches for under five dollars or less. Oddly enough, typical New York staples like Chinese food and pizza are hit or miss here. Organic markets, and other specialty stores seem to make up for it. Nonetheless, For those seeking a little country fare with a rustic-baroque twist on things, Maggie Brown has been holding court for several years now, and remains a popular spot for locals. For the more classy Manhattan expats, there's Hanson Dry down on Fulton which serves up moderately priced martinis and beer.

New families (or the upwardly mobile as some may call them) have been moving quickly into the neighborhood, along with the usual influx of Pratt students though the area is not strangled to death with the usual hipster demographic. Sure, there's bicycle shops, art supply stores, and the pseudo-bohemian mulling about, you'll still get some of the neighborhood's older charm, which includes impressive Caribbean and Soul Food inspired dishes at Ruthie's or Five Spot on Myrtle.

While I myself despised the area originally for it's dreadfully long commutes on the G, I've come to love Clinton Hill and enjoying merely walking it. It's one of my favorite neighborhoods in Brooklyn, if not the entire city. If it's not worth finding a rental here, it is certainly worth a visit.

Blayze O
Clinton Hill, where Williamsburg, Park Slope and Bed-Stuy meet

You can pretty much find everything here. A diverse 'hood home to hipsters, thugs, artists, yuppies, immigrants, migrants, locals, students, seniors, queers, straights, people of all colors, creeds, religions etc. Anything you can't find here you can find in Fort Greene, Clinton Hill's co-hood.

Artis W
Between Fort Greene and Bed Stuy

Clinton Hill is right in between Fort Greene and Bed Stuy not just geographically, but in terms of rent, cultural offer, number of restaurants, amount of gentrification, etc. You're probably taking the same trains and hanging out in the same joints if you live in Fort Greene as in Clinton Hill, simply because most of the property facing the street in Clinton Hill is residential, although there are new places filling the available space all the time.

NYC L
Pratt is here

Good for people at Pratt. You can get everythingyou need in this neighborhood, and if you want to go to Manhattan you can just hop on the G or the C train and be there in 15 minutes! It's a beautiful area, If you're going to Pratt then you should definitely move here or Fort Greene which is a five minute walk away!
And, you should definitely check out the fallen angel house/building: http://www.flickr.com/photos/onebadapple/sets/127493/

Andrew C.
I recently moved here from the city since its much more affordable! We just bought a beautiful brownstone which we plan to renovate over the next five years. We're so happy that we made the decision to move! There are amazing restaurants on every corner and a lot of interesting cultural events especially since Pratt is so close. I feel safe when I walk around after dark but my neighbors tell me to be careful. I guess the neighborhood isn't perfect but it's definitely getting there!! this place is on the way up, imho.Jessica F