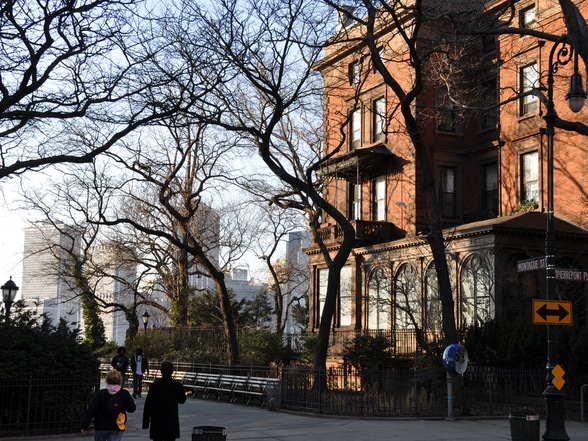 Brooklyn Heights
by nabewise
Infomation
Brooklyn Heights sits on the water just south of the Brooklyn Bridge. A favored nabe for lawyers and officials who work in the government buildings ofDowntown Brooklyn, Brooklyn Heights presents the prestige and charm often associated with Manhattan neighborhoods. Its streets wind through perfectly maintained homes to the breathtaking waterfront vistas on the Brooklyn Promenade and eventually lead to the gallery district of DUMBO. There is no shortage of classy restaurants and shops serving the beautiful and quiet nabe which also boasts ample subway options.
Top Votes – Score out of 100
Safety 96
Families 89
Exclusive/Prestigious 86
Empty nesters 85
Seniors 84
Lowest – Score out of 100
Community 55
Shopping 50
Nightlife 45
Parking 40
Income 39
Top Reviews from Travel Rentals Neighborhoods
Beautiful Brooklyn Heights

Having recently relocated to New York from California, it doesn't seem to get much better than life in Brooklyn Heights. It's a stunning neighborhood that feels more Manhattan than Brooklyn and its promenade is one of my favorite spots to read a book or people watch. Brooklyn Heights has no shortage of good food, especially Middle Eastern fare. My one complaint would be the lack of a singles scene here. Strollers dominate the sidewalks and families stroll the streets on the weekends. However, a short walk away is Cobble Hill and Carroll Gardens, both with a much younger vibe.

Gena F.
Dream Neighborhood

One of the most charming (and expensive) neighborhoods on the Brooklyn side of the river. Trees, brownstones, beautiful views, and chilled back dining options. Love just walking around the streets and along the promenade. A must see for every tourist, and a dream for many people who want to move there.

What's awesome

Beautiful tree-lined streets, great dining options with outside seating in the summer, gorgeous views.

What's not so awesome

Two chain coffee shops (Starbucks & Connecticut Muffin right across from each other) vying for attention. Needs more independent coffee shops. Limited grocery options. Parking is horrendous in the daytime – gets better at night.

Diana S.
Take me to the Promenade

Walking towards Brooklyn on the Brooklyn Bridge you notice a charming little town to your right. Your now reaching Brooklyn Heights, a quaint neighborhood en route toDowntown Brooklyn. If you want to walk where Walt Whitman, Truman Capote, and Norman Mailer beat the street, this is the place to go. Great restaurants abound on Henry Street. For a slice, hit up Fascati's, a family run business for many generations. If your in the mood for pasta and wine enjoy a fine meal at Noodle Pudding. They only accept reservations on one day, and that is Valentine's Day. For an exquisite evening do make a reservation at Henry's End. It's a meat and wine lover's paradise. The highlight of Brooklyn Heights is the Promenade which puts you directly across from Wall St. in Manhattan. There are stunning views of downtown Manhattan and all the way up to Mid-town and beyond. Brooklyn Heights also has its own cinema where Indie and Foreign films are shown daily.

Alexander B.
You might mistake some parts of Brooklyn Heights for Paris, with its quiet, leafy cobblestone side streets and large window cafes. Other parts are more like Manhattan. But either way it's a beautiful nabe. I passed mostly seniors, nannies pushing strollers or groups of moms and their kids running up the block. Very friendly and safe, but also very affluent. I could not imagine living there as a single person in their twenties, it is much more geared towards established families with money.Nina B.
Pretty but a little quiet

This is beautiful neighborhood to walk through. You can't beat the promenade on a nice day. There's also quite a bit of money here that is palpable in a classy way. The downside is that it pretty much shuts down at night besides the middle of the road restaurants that serve the neighborhood. It would be rough for me living here unless I worked in downtown Brooklyn.

NYC L.
I send my kids to Packer, and I never feel like I have to worry about them. Not only is the school worth sending them onto the subway every morning, but it's so easy to get there from the city. Also, it's a very safe neighborhood down by city hall (a nice benefit).Miriam G.
I fail to see how Brooklyn Heights is ranked 42nd for public transportation, behindJamaica, Bushwick, Richmond Hill, and Rego Park. In terms of getting to midtown and downtown Manhattan, this neighborhood can hardly be beat and is far more accessible than Inwood, which is in Manhattan, and which ranks above Brooklyn Heights. There are several subways (I don't know about buses). So the public transportation rankings must be based on something else, and the question is what.Jay i.