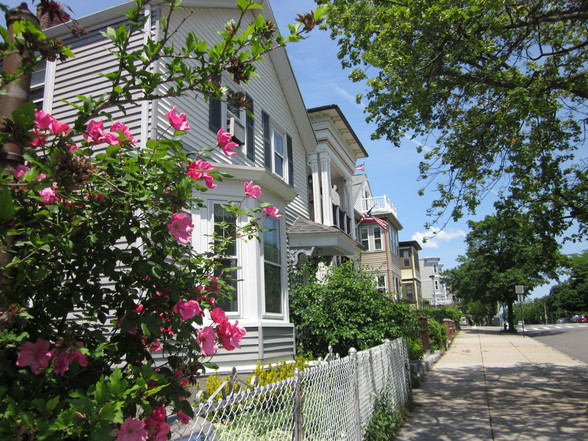 Infomation
City Point is a nabe where "Southie" charm (read: dive bars, raucous St. Patties Day celebrations, and coffee shops without pretense) mixes with North Shore lifestyles (read: ocean view parks, beaches, and a yacht club.) Condo complexes and two and three family houses are the norm in this nabe. Some larger homes, near Castle Island Beach and Recreational Area, enjoy prominent views of the water. City Point is served by several bus lines.
City Point, Boston Data : Neighborhoods & Travel – Score out of 100
LOWEST ATTRIBUTES
Families 46
Public Transportation 42
Shopping 42
Parking 38
Income 27
City Point, Boston Reviews
Charming City Point
The first time I visited City Point, I fell hard for its Southie charms. It was a beautiful summer day, families were playing along the beach, bikers were hustling around the walking trail and the people were just so darn friendly—even the cashier at Rite Aid was in a good mood.
City Point, only a 10 minute bus ride from Copley Square, is a lovely little nabe in South Boston, with big Victorian houses overlooking the water and smaller apartment buildings lining the gridded streets. There are parks, family owned restaurants, waterfront views and good transportation links to downtown. It's a diverse area. Southie lifers mix with young professionals who have just moved
in, giving it a good sense of community.
East Broadway is the main drag with a Stop and Shop, bars, specialty stores, the public library and boutiques. Residents say it can get pretty noisy down here at night, but it's pleasant during the day. Southie is also great for iPhone-less, navigationally challenged people like me because the streets are gridded, a real rarity in Boston. Runners, cyclists and power walkers will love the area too, with the three or four mile path that stretches around the harbor.
Which is not to say that there aren't grubby parts. There is still a large industrial area and cranes loom over the harbor. There are also more roast beef sandwich shops and liquor stores per square mile than probably anywhere else in Boston. Residents say that parking is a big battle, but that's to be expected in most parts of Boston.
But I spent the rest of the day gushing about the area to friends and am now looking for excuses to venture back.
What's awesome
What's not so awesome
Harbor Views
City Point is a charming little Boston "beach" nabe. It definitely feels a little working class and can look a little grubby in the winter (but what doesn't look grubby with three feet of dirt packed snow?) but this is a real gem in the warmer months. Castle Island is a lovely little park to go for a leisurely walk/run, have a picnic or just sit and enjoy the harbor views. One of my favorite things about Boston is that it's got an accessible harbor that you can enjoy from several location in Boston but I have to admit, City Point is one of the best spots to enjoy this little treasure.
Mallory C
One of these things is not like the other…
Sometimes referred to as 'East Side,' increasingly prestigious City Point stands out from Southie's other gritty and traditional nabes because it's, well, less gritty and traditional. If something new and shiny is happening in Southie, odds are, it's probably here. City Point hosts some of the finest homes, apartments, and condos in all of Boston, as well magnificent ocean views (residents love to brag about the crisp salt air that breezes through this area) and a beach that attracts Boston residents from all over.
One of City Point's prime highlights is Castle Island. Easily reached via public transportation, Castle Island is an ideal place to fish, take in beautiful Boston views, and let yourself get a little creeped out: thanks to local legends, this place served as Edgar Allen Poe's inspiration for his eerie short story, "The Cask of Amantillado"
Amanda M
City Point: An urban beach, a place to toss a frisbee, and a stop along my favorite running route
City Point is a nabe within South Boston that runs contrary to what most people think of as gritty, blue-collar Southie. Located on Dorchester Bay, and replete with outdoor recreation options, (read yachting, park lolling, and bicycling against the wind) City Point is a popular place for those with cash flow and a hankering for salt air to call home. The streets with views of the ocean are lined with grand, single family as well as some multi-family homes and a lovely path—popular among roller-bladers, runners, dogs and their walkers— follows along the water for miles.
Castle Island is a 3 mile pedestrian loop which leads out into the Harbor to Fort Independence, a granite fort built in the 19th Century. The fort is open for self-guided tours year-round and many school groups enjoy field trips and to the fort and the accompanying ocean-view park. Carson Beach dares to bring sand into an urban landscape, and on a hot summer day, it draws children and teens that tan from all over the city. Parking in City Point can be a bit tricky without a residence sticker, but MBTA bus lines serve this area with great frequency.
caite m
City Point is not in and of itself a neighborhood
The neighborhood is actually called South Boston. I live in Southie and have my entire life. The fact that city point, a section of South Boston, is being distinguished as it's own Neighborhood, is almost blasphemous. What about the other sections of South Boston, what about where i live? I don't live in City Point, or "The Point" as locals prefer. But I do live in Southie and have always considered "The Point" a part of my neighborhood. So first things first, everyone needs to know that City Point is not in and of itself a neighborhood, it's a section of a neighborhood.
But as far as "The Point" goes, it is the "better" section of South Boston. They have a decent library, great places to eat, bars for "Yuppies", schools, parks, the beach, Castle Island and the ever famous Sully's. Restaurants that are a must eat, Porto Bello, The Fish Pier, Sully's, Kelly Landing, and bar food at the Boston Beer Garden is PHENOMENAL. There are plenty of schools, Boston Collegiate Charter School, The Perry School, St,Bridgette's etc.
It is a great area for families, but please remember: City Point is not the entire neighborhood. It's called South Boston, and if you live in City Point, you are a part of the whole neighborhood, not just your little section.
Braidie c