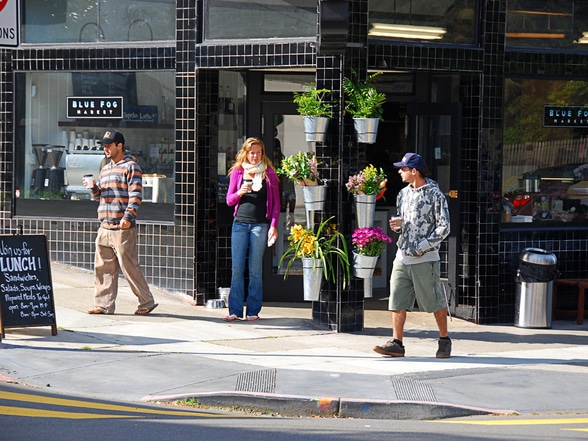 Infomation
Sandwiched between the Marina District and Pacific Heights, Cow Hollow is an upscale nabe boasting beautiful Victorians and eye-catching landscapes. Cow Hollow may have garnered its name from dairy farms that once stood here, but now it's pretty cow-free and one of the city's most desirable nabes. Union Street is its main drag where strolling and window-shopping are done in style. Sprinkled with bars, restaurants, boutiques, and art galleries, Union Street has something for everyone. Green space is just a quick walk away with the Presidio, Chrissy Fields, and the Marina Greens all nearby.
Top Votes – Score out of 100
Safety 88
Income 87
Singles 79
Community 77
Green space 75
Lowest – Score out of 100
Nightlife 64
Dining 63
Seniors 56
Empty nesters 53
Parking 25
Top Reviews from Travel Rentals Neighborhoods
Classic SF

Cow Hollow is half classic San Francisco and half frat party gone bad. The neighborhood itself is delightful with beautiful homes and some great restaurants and bars. But the crowd that descends upon it at night is another story and the atmosphere gets a bit obnoxious. Having said that, it's still an undeniably lovely part of town. Union Street has great albeit expensive boutique shopping and is usually full of stroller pushing young mothers during the days. The residential streets have some gorgeous Victorians but Lombard Street can be a bit of a traffic nightmare.

Gena F.
During the day Cow Hollow can be a nice place to visit, although constantly crowded feeling It's got a lot of nice shops and restaurants to visit every so often. At night, however, it does become "bro" central – rather loud and full of hotheads looking to have a good time. Like the Mission, it has a "scene", but it's one I've never felt comfortable in.Kristine J.
Cozy living

Nestled against the Presidio, Cow Hollow is definitely a more posh neighborhood to live in. Great sweeping views of the Bay, up to Marin County to its north. A lot of families live here.

Jessie W.
Cow Hollow

What's awesome

What's not so awesome

Rebecca G.