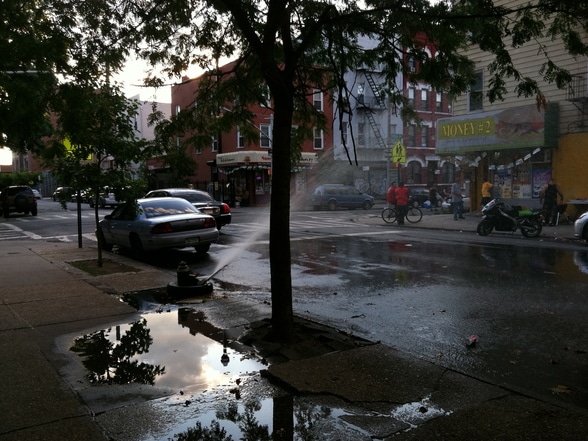 East Williamsburg , Brooklyn
by nabewise
Infomation
While its borderlines may still be up for debate, East Williamsburg certainly is distinct from its big brother to the west, Williamsburg proper. In short, East Williamsburg provides a glimpse into the Williamsburg that once was. Before billyburg became flooded with hipsters, bars, and towering luxe condos, it was a quiet, industrial nabe with a few nice restaurants and a gritty-urban cool. East Williamsburg still rocks that vibe. With the buzz of Williamsburg to the west and the quiet of Queens to the east, East Williamsburg's an ideal middle-ground and certainly a nabe to watch.
Top Votes – Score out of 100
Gentrifying 96
Singles 86
Nightlife 79
Pet friendly 70
Artists/Creatives 61
Lowest – Score out of 100
Green space 33
Empty nesters 24
Clean 21
Seniors 12
Income 4
Top Reviews from Travel Rentals Neighborhoods
Variety In East Williamsburg's Gradual Makeover

When I moved into an apartment near the corner of Manhattan Avenue and Montrose Avenue from the college town of Tempe, AZ the summer of 2004, there were no coffee shops, no quality restaurants, no familiar chain stores. A nearby pizza place was my only decent dinner option. The closest supermarket was filthy and disorganized, with produce strewn about on the floor. There were regular drug deals up and down my block. Unsavory types that spilled out of public housing projects stared at me wherever I went. I never felt comfortable walking from the subway, and avoided leaving the apartment at all times. When my dad came to visit me near end of the summer, he said, "Son, you're living in squalor."

Fast forward to 2011, and the neighborhood is a brand new animal. Graham Avenue is still "The Avenue of Puerto Rico" south of Grand Street, but it's a whole different scene north. My old block has been re-paved, the sidewalks are cleaner, there are new bars and restaurants. North of Metropolitan Avenue would be unrecognizable to someone who hadn't been there in-between those seven years.

Not only do I feel safe there now, but I spend everyday comfortably walking and biking the streets of East Williamsburg, in love with all the diversity of culture and stores and the like. Young professionals and artists huddle up in coffee shops and dive bars and local Puerto Rican families chat in the streets. Sure, it's stilly noisy and dirty, there's still crime, there are still rough areas, but it's a much more livable nabe with a lot more options than there used to be.

Four different L train stations access the area, with the first from Manhattan only two stops from the East Village. The G train runs along its western side. Buses run throughout. Rents are better than Williamsburg proper, but not as cheap as Bushwick. Apartments range from run-down rat closets to the gorgeous and spacious. Dining options are just as varied, from NY Times starred to the un-edible. There are clean and bright organic markets and dusty, smelly bodegas. You can find empty streets and non-stop hustle-bustle within a few blocks. Some are tree-lined and quaint, others nothing but enormous industrial edifices.

The folks that have lived here for years are more likely than newcomers to have families, although I'm starting to see more hipsters with strollers than I used to see. For certain, it's a loud neighborhood, often alive with noise until the early morning. There are no major parks, and grass is a rare find.

However, whatever style your urban fancy, East Williamsburg's options will likely fit the bill.

What's awesome

What's not so awesome

Justin N.
The hipsters are breeding

I sublet a place near Graham Ave. for a couple months this summer. It's a nice area and very convenient to the L-train. This part of Williamsburg is much calmer and quieter than the craziness that is Bedford Ave. It is practically the hipster suburbs. As such it is filled with young hipster families. Luckily, children are incapable of growing ironic facial hair. There is also a White Castle.

This neighborhood also has Peter Lugers and a bunch of Satmar Hasidic Jews (below Broadway). It is lot of fun to wander around here as this area is extremely varied.

Ben Hughes
Love/hate this neighborhood

Hit or miss and neighborhood can change drastically street-by-street. Not a lot of good grocery stores. I've lived here for 5 years, and seen the neighborhood go through quite the gentrification. For good bars, restaurants, and grocery stores, I tend to walk to Williamsburg.

Marissa R.