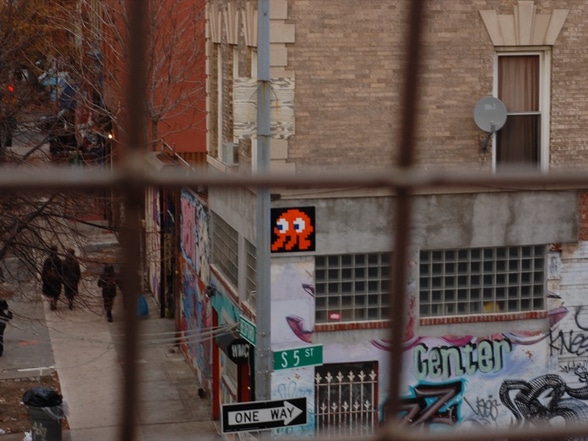 South Williamsburg, Brooklyn
by nabewise
Infomation
Situated by the Williamsburg Bridge, SouthWilliamsburg is filled with old warehouses and factories. These buildings along with the nabe's rowhouses have become new homes for young artists, musicians and scenesters seeking low rents. As opposed to Williamsburg proper, South Williamsburgis in an earlier stage of gentrification, and is thus markedly more diverse and off the beaten path. The neighborhood has several celebrated restaurants and is considered one of the top up-and-coming neighborhoods in north Brooklyn.
Top Votes – Score out of 100
Gentrifying 92
Gays/Lesbians 80
Nightlife 79
Singles 79
Public Transportation 77
Lowest – Score out of 100
Green space 41
Clean 36
Empty nesters 4
Seniors 2
Income 2
Top Reviews from Travel Rentals Neighborhoods
Interesting Living Among a Hasidic Community

I like my place, a lot. Having said that, no apartment in New York is perfect, and I still have no closets, no sunlight, and tile floor in my bedroom (factory building).

The Food is fantastic… Before they close.

It feels safe (precinct nearby) but people still get mugged.

What's awesome

JMZ trains
relatively safe
musicians' residents

What's not so awesome

They Keep Closing My Favorite Restaurants
filthy
disrespectful hipsters = trashed apt. buildings
people still get mugged

s.w.
Bear-Hug Your Fire Escape

A quick survey of my NabeWise profile reveals that I lived in the lap of luxury in NorthWilliamsburg, was priced out of the neighborhood when my apartment was converted to a restaurant, moved to Bushwick to save money and gain space, then decided that the space wasn't worth how not charming Bushwick turned out to be.

So I'm moving back to Williamsburg, and this time, I'm going down south. But why?

As a Brooklyn real estate maven (actually, just someone whose profession allows her to mine and pore through Craigslist all day), I have grown attuned to what you get and where you get it. So when I decided I was ready to get the hell out of Bushwick, I knew North Williamsburg was out of the question because I demanded:

1. a window to the outdoors
2. not a loft
3. no more than 2 roommates

On to Park Slope. You'll be surprised to learn you can find a bedroom there for under $600/month and share a bathroom with one other person. However, your room is subterranean. However-however, you have a backyard. Three howevers later, I decided it wasn't worth it because as a writer, my room is my main office, and I don't do well underground unless I'm shooting through a subway tunnel.

I was getting nervous. With the end of the month creeping nearer, I had to make moves, and quick. I lucked out when I found a really really cheap, cozy and private room in a 3-bedroom with its own fire escape. With its whata whaaaat?? Yes, it was hard for me to believe, too. The room is 50 paces from the towering and elegantWilliamsburg Bridge, in a floor-through top floor apartment (see, I speak real estate now).

Word to the NabeWise: consider South Williamsburg. If you can't part with Bedford Avenue, get over it. There's a whole ethnically brilliant and captivating neighborhood beyond it, and with less vomit on the sidewalk! Cabs will take you home after a night out in Manhattan. The JMZ puts you on the Lower East Side in 5 minutes. The G and L trains are also a short walk away, in case you need to get to Union Square, the West Side, Fort Greene, Prospect Park.

Snag yourself an inexpensive place and hold on to it. Literally, bear-hug your fire escape as they convert your building to condos.

sanyu
One Community Made of Many

In the throws of gentrification, South Williamsburg is experiencing a crisis of identity. Beneath the friendly rumble of the JMZ, the streets are peppered with Puerto Rican flags, pentecostal churches, and inexpensive bodegas. Yet amist these traces of a strong Puerto Rican population, you can also find creeping evidence of a the mid-twenties, "hip", pre-professional, post- liberal arts population that will, perhaps inevitably, replace them. This might, perhaps, resemble a typical picture of a neighborhood transformation if not for the residential Hasidic population whose presence in the community is so established that a siren rings every Friday to mark the beginning of the Sabbath. Though it may sound chaotic, these distinct communities harmoniously unite in this quirky, albeit confused, neighborhood to supply inexpensive entertainment, food and libation for both the pious and ironic at heart

Nicole C.
East side.

I live on the eastern edge of the Williamsburg area bordering Bushwick, around the Morgan Ave. L stop. Separated from the main drag of Grand & Metropolitan by the large public housing developments and the industrial park around Morgan Ave., this part has a distinctly more low-key feel than most of Williamsburg. Trucking can cause noise and traffic in the mornings especially, but generally its a quiet reprieve from the occasional claustrophobia of NYC. The Williamsburg gentrification wave is breaking just south of Flushing Ave, creating a little niche on the Bushwick border comprised of a handful of pleasant coffee houses, bars and restaurants in various shades of Brooklyn hip. It is fueled by a few dozen former factories and warehouse (one of which I live in) that have all been converted into tasteful loft housing. The frontier atmosphere – with the trendy meeting the vast bodega atmosphere that traditionally makes up most of Bushwick/Bedstuy – convenient access to the L train, nice size of the lofts, and the awesome roof top view of Manhattan all make this a well-balanced and fun neighborhood to live in.

Anthony M.
Very diverse

Wow, a veeeery large area has been grouped together as "South Williamsburg" on these maps. It is not, however, a homogenous neighborhood.

The area just south of Williamsburg proper, over near the bridge, is really justWilliamsburg-lite. Hipsters, industrial, etc – it is quickly becoming just like its neighbor to the north.

Going further east, you begin running into more diverse ethnic communities, and a more residential atmosphere. It's mostly families, and pretty quiet. Even further east, once you get closer to the Grand/Montrose/Morgan stops on the L, it's a mixture of both of the above. It gets more industrial leading into Bushwick, before getting residential again.

Property values are reasonable, transportation options to Manhattan are good, it's quiet, and pretty safe.

Geoff H.