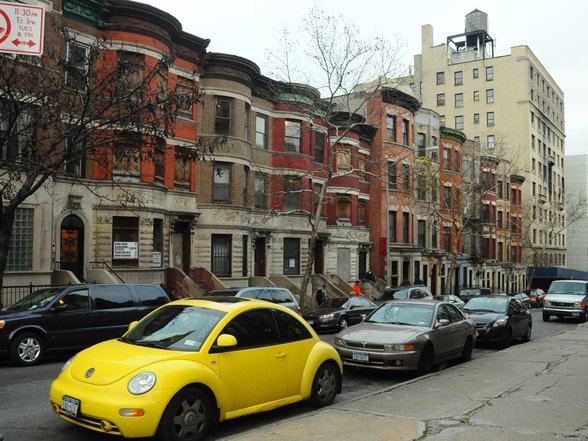 Hamilton Heights
by nabewise
Infomation
Hamilton Heights was first developed in the late 19th century when the subway was extended north. Since then, it has served as an escape for Manhattanites looking to escape some of the stresses of the city. The buildings are a mix of brownstones, rowhouses, and modern apartments. The streets are mostly quiet and green. Recently, Hamilton Heights has attracted a large community of teachers, actors, and artists. Hamilton Heights sits between Manhattanville to the south and Washington Heights to the north.
Top Votes – Score out of 100
Community
81%
Community 81
Public Transportation 70
Green space 69
Pet friendly 67
Safety 55
Lowest – Score out of 100
Income
4%
Empty nesters 44
Nightlife 44
Parking 38
Shopping 35
Income 4
Top Reviews from Travel Rentals Neighborhoods
Located towards the Northern tip of Manhattan, this neighborhood offers more affordable rent as well as quick access to the more bustling areas of lower Manhattan. It is a historic region with beautiful townhouses, hills and a residential feel.
Beverly W.
I recommend my neighborhood
Hamilton Heights is great. I can get downtown in a matter of minutes, and I'm far enough away so that I don't feel the stress of lower Manhattan. I feel at home here, and my neighbors add a lot to that I couldn't ask for friendlier people!
Linda H.
The difference between Hamilton Heights and other parts of Manhattan is that everyone that lives here is dedicated to their community on a whole other level.
Alex T.
Get it while you can
Details of Hamilton Heights can be found at www.hamiltonheightsny info.com Anyone looking to find a home in Manhattan should take a close look at this neighborhood. It is better than a good place to rent, it is a great place to buy. The complaints about groceries are not so true. First, Fairway is right at 125 and the river. I walk there twice a week -and its a beautiful walk too. There is a green market weekly on 137 and Broadway. New restaurants are opening up and they are good. Walk up Riverside Drive and see what you think.
What's awesome
A fully rennovated condo on Riverside Drive at a price better than just about anywhere else in NYC.
What's not so awesome
Broadway at night can be a take it or leave it issue.
Ian J.
Spacious living in Manhattan
I recently moved to the edge of Hamilton Heights at 152nd and Riverside. What a great place to live! Even while we were moving in we encountered some wonderful new neighbors who assisted us when we were in need. I walk from my apt to the 145th ST train and can always feel the sense of community in the people on the way there.
Very few neighborhoods in NYC are 100% anything anymore. I've lived close to Hamilton Heights for a few years now (in Washington Heights) and even before moving here I recognized the growing diversity. Its no longer just a neighborhood of blacks and Dominicans, but home for students attending City College and Columbia, young urban professionals and many artists. Families are common amongst all these groups.
Harlem, Hamilton Heights and Washington Heights are still home to some of the largest affordable apartments in Manhattan. Due to the recession, it is a renters market. My partner and I found a wonderful reasonably priced huge 3 bedroom that we hope to enjoy for many years to come.
Robert C.
An interesting place
Hamilton Heights is a smaller neighbourhood within Harlem. It's between Washington Heights to the North and Manhattanville to the South.
I just happened to have stayed there for the last 2 weeks and have mixed opinions about it. Typically, most potential residents (long-term or short-term) are concerned about the safety in Harlem and all I can say about this with honesty is that it varies depending on exactly where you are located.
I lived right on Broadway very close between W144 and W143 and Broadway is generally safe even at night (I kept coming home after 0100 HRS quite frequently -no problem) if you exercise the usual precautions required in any large city these days. The only catch is that certain parts of Harlem surrounding Hamilton Heights (it is a small neighbourhood) can be a bit "iffy". In particular, I would suggest avoiding the region from Amsterdam Ave and beyond (towards the East – moving away from the Hudson), probably right up to Lenox Ave. That part of town didn't make me feel very comfortable when I walked through it with people talking about their last arrest or some sh*t like that. However, I must also mention nothing really threatening or frightening happened whenever I was in these neighbourhoods. Ideally, avoid them altogether even during the day. Mind you there are more dangerous parts of NYC in Brooklyn, the Bronx and even around Times Square so anyone visiting must always be alert as one should in any large city. Crime can happen in any city in any neighbourhood and at any time.
In terms of "look-and-feel" the neighbourhood is markedly ethnic with more Mexicans, Dominicans and Puerto Ricans hanging out in the area around Broadway and towards the Hudson River (moving West). The area between Amsterdam Ave & Lenox Ave are largely African-American or Haitian. There are a few Caucasians, Asians and Indians but they are the minority and are usually students or artists/musicians. It's hardly the most elegant neighbourhood you'll come across but it's not the worst either. The better parts of the neighbourhood, in my opinion, are those along the river (near Riverside Park) and right on Broadway.
The best part of this neighbourhood is that rents come fairly cheap by NYC standards even on Broadway. Also, there are some really good Mexican and Dominican restaurants in the area where you can eat great food at great prices (low rents help here). You also have McDonald's and Dunkin' Donuts on Broadway (between W145 and W137) – as always :).
The shopping's nowhere near the best NYC has to offer, so you're better of going Downtown to shop. Mind you, there are loads of neighbourhood stores but they didn't really inspire me.
As far amenities go, there's the Riverside Park very close by that has an athletics track, football field, swimming pool and little junk food restaurant. It's a good place to go for your exercise. I reckon there are some gyms in the neighbourhood as well.
Transportation is good and Hamilton Heights is well connected to most of Manhattan by subway (Lines D and 1) and bus (M4, M5). I had no real problems with that.
I'd recommend this neighbourhood in general except for the region around Amsterdam Ave and moving East towards Lenox Ave. I'm quite happy I stayed there in the end and wouldn't mind going back again.
Harsha P.
NEARBY NABES
Manhattanville
St. Nicholas Terrace
Washington Heights
Harlem