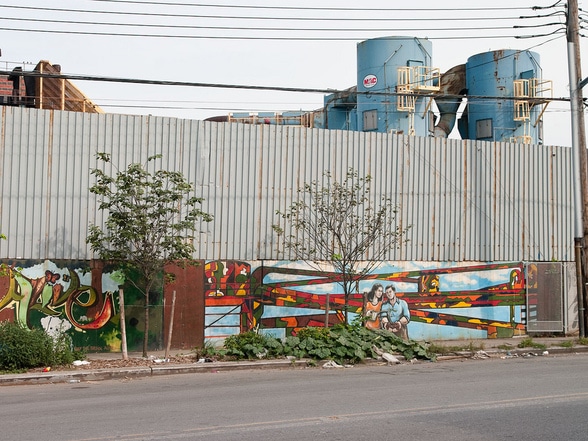 Hunts Point, The Bronx
by nabewise
Infomation
Dominated by industrial buildings, Hunts Point's comparatively scant residential offerings are found primarily in its north side. On its southern end are the large structures used to house the New York City Terminal Market, the Hunts Point Cooperative Market, the massive Hunts Point Food Distribution Center, and, at its new home, the New Fulton Fish Market. The area is served by the 2 train.
Top Votes – Score out of 100
Shopping 60
Nightlife 56
Community 55
Public Transportation 50
Blue Collar 50
Lowest – Score out of 100
Seniors 30
Pet friendly 25
Clean 25
Safety 15
Green space 8
Top Reviews from Travel Rentals Neighborhoods
Few people know about all the markets Hunts Point has to offer, which is sort of a shame, really because they are remarkable. I've met many interesting people at these markets, and they all seem to love what they do. Go during the summer.Paul N.
This neighborhood is really, really bad. They're trying to fix it up but I don't know… it's still dirty, smells like fertilizer, and ugh! The only good thing is the market and the art galleries there. I did hear about prostitutes but I didn't see any.Josie M.
Hunts Point, once famous for its prostitutes, is a Bronx neighborhood that is moving on up in terms of quality of life. Once a forsaken peninsula of land that was home to factories, it is now the scene of a vibrant, growing community.

Though pollution is still a problem, community activists set out to alleviate this. Organizations such as Sustainable South Bronx work to maintain a healthy environment for Hunts Point residents. Parks are not many, though there is currently a push to construct more. A barge parks annually on the shores of Hunts Point with a large pool for residents and visitors alike.

Hunts Point is most famous for its vast produce market, where retailers purchase fresh goods wholesale. The market is now home to the Fulton Fish Market, which was once situated near South Street in Manhattan.

Hunts Point is also home to a new trend of art galleries and art shows, many of them involving graffiti and a classic, hip-hop style. Though the neighborhood still isn't one hundred percent safe, it's a fun one for an adventurous person or culuturally seasoned Bronxite to drop by to check out art.

Schools are not good, and the neighborhood is quite poor, however. There are mostly apartments here, on narrow, hilly streets.

Though the hookers are gone (at least to the unassuming eye), Hunts Point still has many reasons to come and visit.Amelia Z.