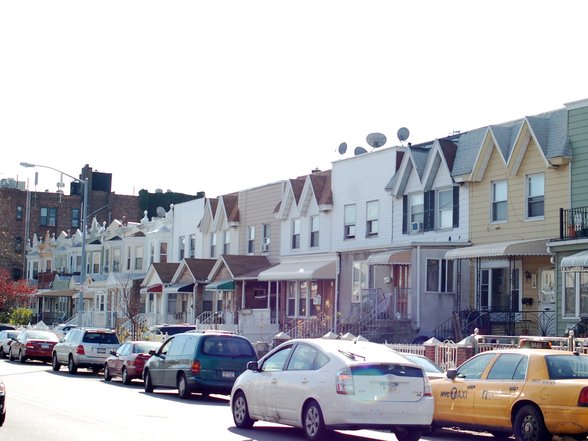 Kensington, Brooklyn
by nabewise
Infomation
Kensington is a culturally eclectic nabe in central Brooklyn. Kensington is mostly residential, but has commercial strips on Church Avenue and Ditmas Avenue that spill over into neighboring Flatbush. Locals live in brick row houses, apartment buildings, and Victorian mansions. The area is served by one train option: the F train.
Top Votes – Score out of 100
Gentrifying 83
Quiet 81
Seniors 80
Safety 75
Community 69
Lowest – Score out of 100
Families 43
Nightlife 35
Shopping 35
Singles 35
Income 5
Top Reviews from Travel Rentals Neighborhoods
I grew up in on Ditmas Ave in Kensington and went to Brooklyn college nearby. The Victorian mansions are my absolute favorite houses in all of Brooklyn. The neighborhood has changed drastically in the past few years and tons of incredible restaurants (even a Connecticut Muffin) have come to Cortelyou Rd.! The proximity to the park, awesome neighborhood vibe, incredible selection of ethnic food and of course, the beautiful rows of mansions make this neighborhood one of my favs! Hurry up and move here before rent is through the roof.

What's awesome

Prospect Park, Dining (food in general), reasonable rent

Sofya
Kensington, New York City

I've lived in Kensington for the last couple of years and love the overall vibe of the area. There are people of all different nationalities living here and the neighborhood is really clean and beautiful. You can take the F or G trains as well as several local and Manhattan bound buses. The express X29 will get you to Manhattan in no time. Go to Church Ave for good eats and shopping. Cortelyou is also a quick walk and has a bunch of good places to eat.

Martha H.
Kensington, New York City

Kensington stables is a must see! I went horse back riding here last summer and we had a blast. The prices are affordable and the people are really cool. You ride a long "the shoe" in the southern part of the beautiful Prospect Park. The barn was built in the 1930's and is the only one left in the park.

Carrie C.