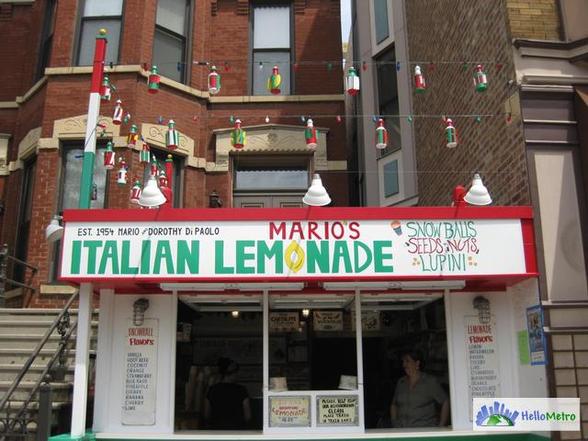 Infomation
Chicago's Little Italy sits inside University Village on the Near West Side. A favorite nabe for both tourists and residents alike, this is one of the top spots in Chicago for a merry dose of concentrated culture. While Little Italy's original population is waning, old residents often return to Little Italy for catch-up and festivities on the weekends, giving this nabe a sense of Italian living in both the Old World and the new. Along with some of the most famed traditional cuisine in the city, Little Italy is also home to some great museums—Hull House (America's first settlement house), and the National Italian American Sports Hall of Fame—making this a great nabe to visit in sunshine and also in the bitter wind or rain.
Little Italy, Chicago Data : Neighborhoods & Travel – Score out of 100
LOWEST ATTRIBUTES
Seniors 49
Empty nesters 41
Parking 38
Quiet 38
Income 27
Little Italy, Chicago Reviews
The Nabe Formerly Known as Little Italy
While this little gem of a nabe does not showcase as much of the cultural and historic charm it once did, there is something to be said for the University Village pocket of Little Italy. Easily one of the best destinations in the city to indulge in quality cuisine, this nabe has been absorbed by the UIC students and young professionals over time. As a result, the area appears more modern in architecture yet a bit kitschy. One of the main downsides, neglecting the obvious gentrification, is the lack of reliable transportation. While the Blue Line runs all night, the buses are spotty.
Marianne L.
A Little piece of Italy, Chicago Style
Nestled in the West Loop north of Pilsen and just south of Greek Town, Little Italy should definitely be on any food connoisseurs hot-list. With an excellent array of Italian eateries, specialty wine shops, and a flourishing bar scene, the neighborhood should be your next stop if you really want to impress that special someone or are just looking for affordable drink specials. With new infrastructure fueled by the ever-growing number of UIC students living in the area, the main demographic of the bar scene is from about 20-30 years in age. This is not to say that anyone over 30 does not make their way into the area, but it seems as during the school year, the college students dominate the main drag of Taylor Street, the hot-bed for entertainment and restaurants in the area.
Little Italy is still gaining monetary momentum, but has been steadily decreasing its crime rate with the addition of new bars (The Bar 10 Doors, Three Aces) and various new apartment complexes, while still retaining the rich Italian heritage that has made the neighborhood a staple of the Italian-American community in Chicago. As Little Italy is defined, at least in this writers book, the neighborhood stretches from Racine street to Halsted street (west-east) and from Harrison street to Roosevelt street (north-south). the surrounding areas are not as nice as Little Italy, and thus occupants and tourists alike should be cautious at night-time, especially after 12 AM.
Expenses in the neighborhood are relatively cheap because of the increase of college students. That being said, you can still find great housing in the area. An apartment complex that I currently live in is priced at $1000 for a 2 bedroom, 1 bathroom, while across the street is an entire housing unit that is priced for $200k. The range and mixed income community is one that makes the community vibrant while also retaining a sense of safety. As for transportation, Taylor, Harrison, Halsted, Roosevelt, and Racine all have bus routes as well as the blue line stops UIC-Halsted and Racine being directly north of the neighborhood, making downtown access a breeze. The parking permit (#5) is only priced at $120, cheap considering a ticket from the city for not having your permit will run you $50+.
Dan L.
Little Italy: Hidden Italian gem near the loop
So I used to live near Little Italy while living on campus at the University of Illinois-at Chicago and have witnessed it's progression from being a lesser known area to a fully gentrified neighborhood. Okay, so it might be entirely gentrified but it has definitely witnessed some massive changes such as newly built expensive condos, impressive new restaurants, and the evacuation of years old eye-sores (public housing units).
It is fascinating to see this little neighborhood transforming into something that I had not previously imagined. Little Italy is quickly becoming a sort of Southside-esque Lincon Park for the UIC students as well as countless others. This obviously has its pro's and con's considering it is in part creating a more vibrant and exciting neighborhood, yet is Little Italy losing its hidden charm?
The area has definitely seen some improvements and I would suggest that it is now more welcoming for students as well as families to live side by side. The nightlife is also rapidly expanding for the better, except for the awful Jersey-Shore inspired spot "Vintage". However the public transit is still not the best option for the area, limited to a Blue Line train stop and a couple hit or miss bus routes. I would suggest for individuals wanting to move to the area to definitely invest in a bike, so as to avoid the hassle of this public transit mess.
Overall though, it is a breath of fresh air to see the development of this quirky little Italian neighborhood into something much more impressive.
Matthew A.