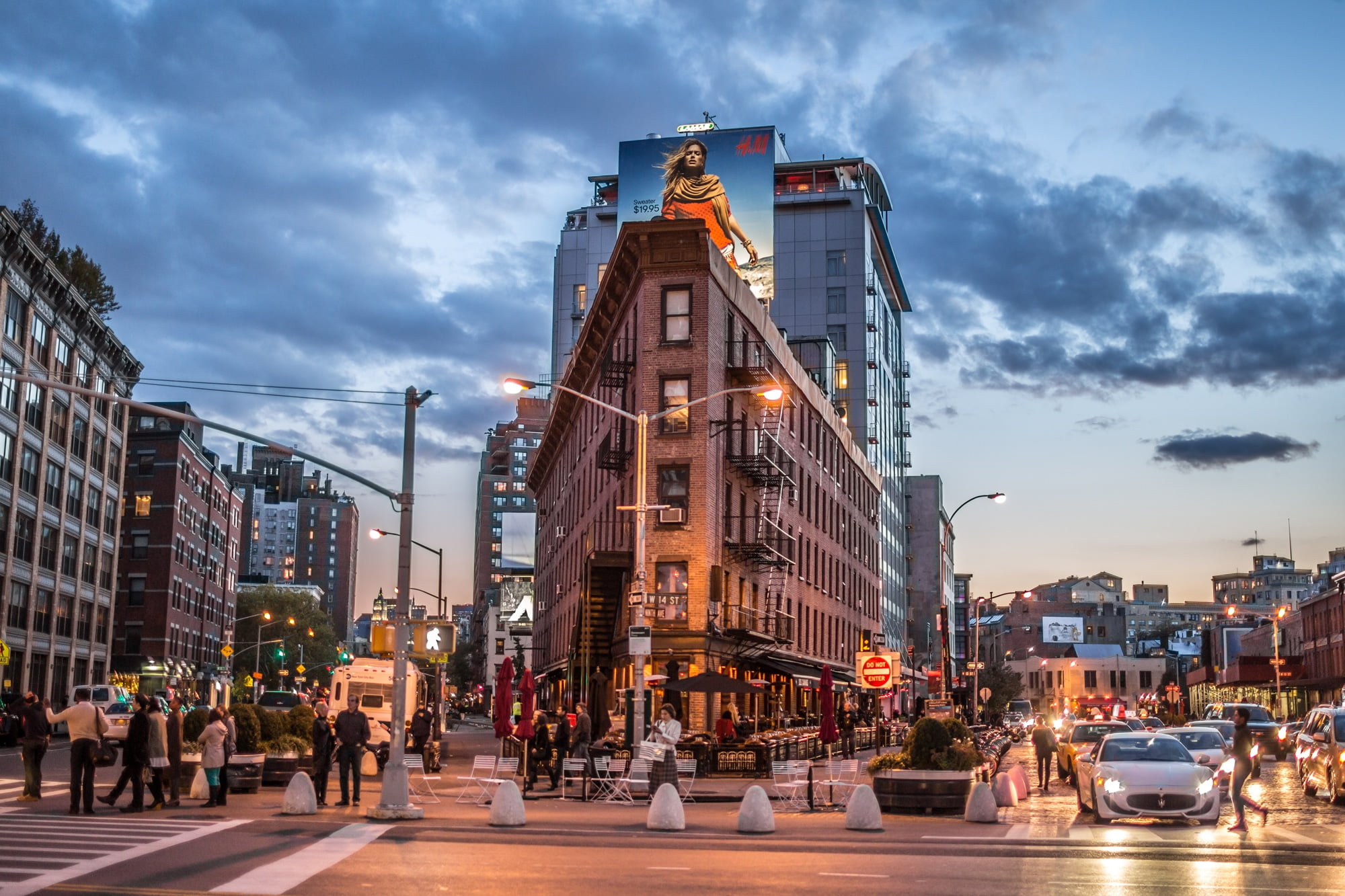 Meatpacking District
by nabewise
The Meatpacking District–once infamous as an industrial wasteland rife with seedy goings on–is now a trendy nightlife and shopping area on the Hudson between the West Village and Chelsea. Cobblestone streets and converted brick buildings lend the Meatpacking District a certain otherworldly ambiance at night, drawing weekend crowds from the Tri-state area for a taste of its many velvet-roped nightspots. The bulk of residential property here is highly sought-after luxury loft space.
Top Votes – Score out of 100
Beautiful people 88%
Trendy 88%
Nightlife 87%
Singles 88%
Wealthy 57%
Lowest – Score out of 100
Green space 46%
Parking 32%
Community 32%
Quiet 27%
Seniors 14%
Top Reviews
Nightlife in NYC can be found in every corner of this city, if you know where to look. In the Meatpacking District you don't have to look…nightlife slaps you in the face as soon as you step over the border of 9th Avenue.For the most part it's the "see-&-be-seen" crowd with scores of exclusive nightclubs, lounges, and restaurants that have 1.5hrs "wait time" even though you see empty tables behind the gracious hosts. No matter. You'll wait…because the corner of your eye just caught all those beautiful (single?!) people at the bar waiting for their table. Next thing you know, you're trying to make your clearly over-priced, barely alcoholic drink last another 1.5hrs, which in fact is not as long as you initially thought.Diana S.
I remember the Meat Packing district when it you were able to see the carcasses on the streets – this was 20 years ago when I was living in the village. When I came back to New York in 1999, I remember Pastis opening up and knowing it was going to change the neighborhood & the prostitutes were going to find another corner.Every year this sliver of NYC gets better. Whether it's for the shopping – got to love the DVF boutique or the high line park. For me this neighborhood is one of the most exciting because it has a little of everything.Melissa V.
I have lived in NYC for 20 years at least, so call me a native New Yorker. Sadly, this neighborhood has become trendy with cigarette-wielding Eurotourists and overdressed women who wish to recreate scenes from "Sex and the City." Real New York institutions such as Florent have been driven out by high rents and have been replaced by superficial, overpriced eateries. There are still charms to be had here. And if you can afford the price and can stand the crowds, you could impress some people by living in the "Meat Packing."Christine A.
The meatpacking district has long been known for its nightlife, but like neighboring Chelsea has seen a bit of trouble of recent.Still meatpacking is still always popping after nine.

Whether you are going for a deelish dinner at Spice Market, or out to the Ganesvoort a bit later – the meatpacking district is your place for all things social!Richard H.
Up until a decade or so ago, the Meatpacking District was reviled and people avoided it like the plague. It was seedy, dirty, and dangerous. You'd avoid it too, wouldn't you? Well not anymore, this is the new, hot, hip New York nabe. Samantha moved here in Sex and the City and lived in some super modern, all white loft. If that doesn't give you an idea of the nabe, I don't know what will.Mallory C.
If fun is what you are looking for, the Meatpacking district is where you should be! Like upscale clubs? Try the Boom Boom Room at the Standard Hotel. You might even get lucky and run into Madonna. Looking for the best scene? Give Tenjune a go. It has hip music, cute guys and a lot to offer. Looking for something a little more laid back and mellow? 675 is the place for you. It is an underground bar with themed rooms and board games. How could you go wrong? Young, single, and looking for adventure? Head to the Meatpacking District for sure.bbb
This area is great in the day time, especially since the Apple Store moved in. If you're into nightclubs and stuff like that, you might enjoy it in the evening as well. But for me this area is the creme de la creme of fake exclusivity. You see a lot of people around here on the weekends blowing money and acting like they are in a music video, but the joke is really on them. Very few of these places are actually hard to get into. You just have to come with a bunch of girls. An exception is the Gansevoort hotel bar. Check that place out if you're feeling swanky. Another is the Brass Monkey, which is kind of a rowdy pub. You can get a bit of the nightlife buzz there without all the hassle and cost of a club.Ronnie G.
Really exciting area for nightlife! The night never ceases to bring something fun or interesting to do. There are plenty of stupendous bars and awesome eats about in the Meatpacking District alone plus it is close enough to Chelsea and the West Village that I get the benefit of the terrific arts scenes there too.Sandra C.
Well, I should preface this by saying that I don't go out much because I work nights mainly. That said, the few nights a month I get to go out it is great being in the Meatpacking District. I try and stay positive so I will say Highline Park is cool. 4 or 5 blocks is really not a problem walk for me so the L on 14th is fine because I work across town.Marc H.
One sure thing about the Meat Packing district is that it still holds on to it's most basic origins, if only in the most superficial manner. Meat. Selling it. Showing it off. Eating it. Infamous for it's previous social incarnation as hooker central, this area retains enough of the patina of NYC's formerly revolutionary status to make it seem radical, to a point. On the one hand the areas cultural roots that make for its emphatic liberalism. On the other hand the hyper-capitalism of NYC's art scene completely underlies everything." Recession? What recession? I spend 20 grand a month on shelter ALONE! Get out of my face! Santiago wants some empanada's and I know just the spot!" Yes, that was hyperbole but not far removed from the reality itself. This area is very pricey. Cocktails are designed here, not poured.
Did Stonewall come up this far North? Did Michael Alig venture this far West? Who knows! Out n' Proud gay culture is all around but the equations seems to boil down to Party + Protest – Politics = MPD
So Let your hair down. Go out to be seen. Spend a lot of money. Wax your eyebrows. Spend 20 minutes waiting for an empty taxi but you don't care, you're drunk and you look great!
It's not all party though. If the wisdom and smarts of a neighborhood can be judged by its buildings then the MPD is a well maintained Jackie O of sorts. Imposing warehouses dating from its industrial shipping roots sit across from spanking new buildings housing high-end retail, habitants and office space. The best spot to enjoy all this is from the newly minted Highline park, the formerly derelict "El" line which runs North for about a mile above tenth avenue which according to the gossip was once a known haunt of the late enfant terrible, Dash Snow.
This beautifully designed little marvel will take you right through some of the cultural hotspots of NYC. That's capital-H culture mind you. During fashion week this writer and his girlfriend got to watch an auction of some Chanel Haute Couture from the built-in chairs of the Highline between what we thought was 25th and 26th street.
Subway choices favor the West Side lines; the A,C and the 1,2,3 run close by. The L is an excellent choice if it is running properly. If you happen to be the walking type the B,D,Q,F,V and 6 lines happen to stop on the easterly coordinates of the commercial giantess New Yorker know as 14th street. Just walk west, once you hit Jackson Square you are there.
Parking is….expensive, to say the least. Don't expect to find a parking spot there. The NYC equivalent of the suburban Park and Ride is a money muncher and the buses…don't take the bus if you can take the train. That's just my best advice.Terence M.