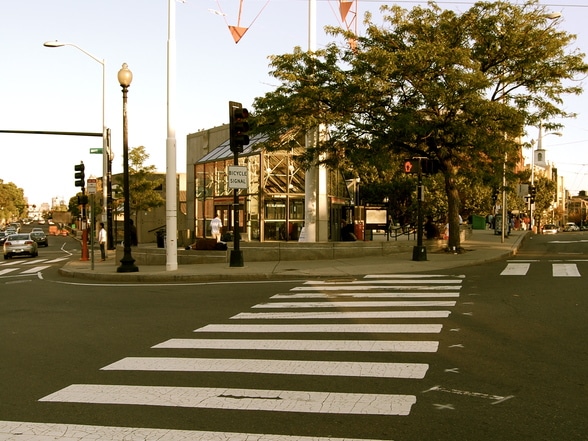 Porter Square
by nabewise
Porter Square is sandwiched by Harvard Square and Davis Square–giving this nabe a convenient location and plenty of amenities. Porter Square offers affordable housing, direct access to the Red Line T, convenient shopping at suburb-sized grocery stores, and ample dining options for residents and visitors.
Porter Square Data
Public Transportation

8.9
Lowest Attributes
Porter Square Articles and Reviews
The livin's east in Porter Square
Poor Porter Square—it often gets shafted when compared to Cambridge's other squares like Harvard and Central. But this area, located on the Red line and Mass Ave. can stand on its own, with several independent shops and restaurants. Porter Square Books is a great little shop that frequently holds author readings and the Porter Exchange, a mini-mall that holds a ton of East Asian restaurants and shops.
Locals rave about the ease of living in Porter Square. There's a 24-hour Shaws, a CVS, an Ace Hardware, a liquor store, a post office, a dry cleaners and a few gyms. It may not have the most hoppin-est nightlife, but with that kind of convenience, who needs it? You can hop on the T (conveniently located in the center of it all) and are whisked to Harvard or Davis Square in minutes.
What's awesome
convenience, transportation, shopping
What's not so awesome
Porter Square: Connected yet Insular
In some ways, Porter Square's geography is a pretty good metaphor for its virtues . . . and shortcomings. Straddling Cambridge and Somerville along Mass Ave., it's only a few blocks from bustling Harvard and Davis Squares, a stone's throw from suburban Arlington, and a matter of steps to affluent residential Cambridge nabes Avon Hill and Huron Village in one direction and urban Somerville in another. In spite of (or because of?) its proximity to bolder neighborhoods, Porter can feel like it's stuck somewhere in the middle of it all. Its residents don't seem to mind and are often at that very "in-between" point in their own lives: they're a little older than the college age and recent graduate nabes Harvard and Davis; a little younger and less established than what they may find on Avon Hill or Brattle Street; and not quite ready to abandon their urban lifestyles for the suburbs of Arlington or Newton.
While Porter is not all things to all people, it can be a lot of things to people growing into mature adults from their more carefree youths. For residents, it covers the essentials: reasonable rent in a safe area, easy access to the T (Porter Square stop – Red Line), large grocery and hardware stores, dry cleaners, and an eclectic blend of restaurants and bars. Walking distance to Cambridge common and the Minuteman Trail, Porter is also amenable for active, outdoor types.
But Porter is a nabe that, essentially, serves its residents. Unlike nearby Harvard or Davis Square, where opportunities for entertainment or enterprise are bountiful, Porter operates on a subsistence scale. Christopher's, for instance, is a fine restaurant & pub with a great beer list and very good food. It is not, however, the kind of place people will travel to from miles around (or potentially even on the T) to spend their night. It is a neighborhood place – and a good one – but not more.
Christopher's does not stand alone in Porter, either. Stone Hearth Pizza is an outstanding eatery with the freshest local ingredients in their pizzas, flatbreads, strombolis, and appetizers. They serve beer and wine and have a small, cute restaurant on Mass. Ave. It isn't the Mecca for people-watching that a Mass. Ave. restaurant in Harvard Square might be, but it consistently delivers excellent food at a good price. In other words, it's very Porter Square: high quality, low exposure.
Another highlight of Porter is Addis Red Sea, a delicious Ethiopian restaurant on Mass. Ave. Like its South End sister of the same name, Addis offers tasty, savory Ethiopian food served in the traditional shared bowl. (For those unfamiliar with this practice, instead of a table, you and your companions will sit around a large, deep bowl, coated with soft, sponge-like bread. Your separate entrees are then placed before you, and you use the bread to scoop it. So, your food doesn't mix with your date's . . . unless you make it happen!) The dimly lit, warm atmosphere and exceptional staff teams with fantastic beef, chicken, lamb, or vegetable stews and curries to create an excellent experience for famished travelers, romantic dates, or food lovers looking for a great experience outside of the more commonly-devoured cuisines of Greater Boston. Addis is probably Porter's best destination for non-locals, but its sister on Tremont Street in the South End offers greater appeal outside of the restaurant.
Given its strategic location, Porter offers a great place to live for young professionals or young families looking to combine the cultural advantages and vibrancy of the city with the quiet of the suburbs. Porter Square residents can walk to Harvard Square to shop, catch a flick at the theater-that-serves-beer in Davis, or head a few blocks north to check out the happenings of Arlington Center. At the end of the day, though, Porter residents are visitors in those places, which might make some people feel like they aren't really a part of any of it.
But, living in Porter – and capitalizing on its geographic advantages – might make you feel like you can be all things in all places.
Chris C.
More Handy than Charming
… but it grows on you.
To elaborate, when I first asked friends which neighborhoods in and around Boston I should set up shop in, Porter came up a number of times – mostly in the same breath as Harvard, Central, and Davis. Attempting to do this housing/'hood research from SF, I did the best I could on the Internet, and otherwise kept Porter on the list of places to check out when finally doing the sprint of looking-for-and-magically-getting-a-place-while-visiting-for-a-week.
(With the disclaimer that this is my complete and utter bias…) I stepped off the Porter Square T (yes, folks, it is right on the red line – most excellent) and I was less than charmed. Given that I'd heard all about how it's just one stop past Harvard, between the school and Davis, and so on, I figured it would have a lot of the character of those two, and just be a bit of a quieter version. Instead, it felt a little more like stepping into a handy-but-not-enough-to-move-me-across-the-country neighborhood that you swing by for groceries on the way home.
What's so handy about it, then, if that's Porter's main offering? Once again, right on the red line T, one stop past Harvard and one stop before Davis. It has a gigantor Shaw's, and not one but three gyms (one – Planet Fitness – that's an excellent $10 a month while still being new and clean. They pull off some magic at that place). A City Sports, CVS, Dunkin, Pier 1 Imports, and even a Jennifer Convertibles. So, yes, great place if you're just moving in, or are ravenous on the way home from work.
So, yes, I landed in Davis, not in Porter. But I will concede that Porter has grown on me a bit, and not just for the discovery of the two organic aisles in Shaw's. Nope, nestled between Shaw's and Dunkin, you'll find a few quality local businesses that are pretty standout. Some favorites are Porter Books, where you'll find, um, books, but also a café that's a great spot for working (free Wi-Fi), reading, and people-watching, and that seems to attract people who are interested in all three – it's not just 97% laptops. Next door, Tags Hardware welcomes you with lollipops or popcorn, and has funky kitchen items and housewares, not just bolts and screws. Poorly-named Liquor World actually has a great little selection of microbrews in the back. And Cambridge Naturals just smells great. Interesting restaurants and my occasional indulgence – little Tibetan shops – are steps away on Mass Ave.
So I say move here if it's really helpful for you to be near just about anything you might need, and if you like having equally-easy access to the likes of Davis and Harvard. It's also cheaper than both, and the houses on the west side of Mass Ave are beautiful, and on flowery, well-kept, dare I say charming streets.
If this still isn't your cup of tea, then you will still be plenty close to Porter Books, Planet Fitness, or another favorite Porter find if you instead opt for Davis or Harvard. Porter's a handy neighbor, indeed.
Jeanette M.
Porter
Porter Square is a great location sandwiched between Harvard and Davis Squares. Like so much of the city, Porter blends the charm of locally owned shops, such as Porter Square Books, with modern mega stores such a 24 hour Shaw's. There is something for everyone here with Henry Bear's Park for children and Ace Hardware for do-it yourselfers. A variety of cuisine is available within walking distance and the iconic "Gift of Wind" sculpture rotates above the Red Line T stop to mark the station's location. Should you choose to drive instead of taking advantage of public transportation, there is two hours of free parking in the shopping center, a rarity in this area where even metered parking is a competitive sport. There is constant activity in this popular rest stop off of of Mass Ave. and with so many stores compacted within the small area, it is worth a visit.
Jennifer
A Smörgåsbord
Nestled between Harvard and Davis Squares, Porter Square is an eclectic mix of both businesses and people. On a single outing recently, I noticed people from all walks of life – scantily clad young women (it was a scorcher), suited-up professionals, and elderly couples walking hand-in-hand. Owing its character to its unique location between some rather affluent residences to the west, the youthful college-orientation to both the north and south, and the more affordable housing to the east, this place really does have something for everyone. Expect to find food ranging from cheap dives to fine dining, neighborhood cooking to Indian, Thai, and French cuisine. You'll find a hardware store across from an artist's collective, music stores, bookstores, and a beautiful Tibetan boutique with clothing, jewelry, and, for lack of a better word, paraphernalia (think floor cushions, prayer wheels, bells, bowls, gongs, and the like). No matter what your taste, you'll find it here.
Divided by four lanes of traffic, it isn't as pedestrian friendly as either of the surrounding squares, yet it still manages to maintain a welcoming atmosphere despite this downfall. You should be able to find plenty of parking in the Shaw's lot if you choose to drive, but if you decide to come here for a trip to the various bars and pubs, you'll be happy to find the T-stop at the heart of the square.
Jake T.
Something for everybody, even if you're just passing through
Porter Square sits at the outermost edge of North Cambridge and can be defined as the urban shopping area and neighborhood surrounding the intersection of Massachusetts and Somerville Avenues. A walk through Porter Square would involve businesspeople, blue-collar workers, hipsters, children, and the homeless.
Since the subway extension to Porter Square was completed in 1984, the area has been one of Cambridge's busiest transportation points thanks to the red line and commuter rail. Thus, it's easily connected to Alewife Station in the heart of North Cambridge, Davis Square in Somerville, and only one stop from Harvard Square.
Arguably, the improved proximity to these locations have driven Porter Square to morph into what it is today: a crossroads between mixed income neighborhoods in Cambridge and Somerville which has practical shopping like Shaw's Supermarket and Ace Hardware, as well as restaurants that range from casual to high-end. Christopher's Restaurant serves burgers as well as some other eclectic choices, while the Elephant Walk specializes in French and Cambodian food. Trendy bars have become commonplace as well, like Toad and the Spirit Bar.
Peter H.