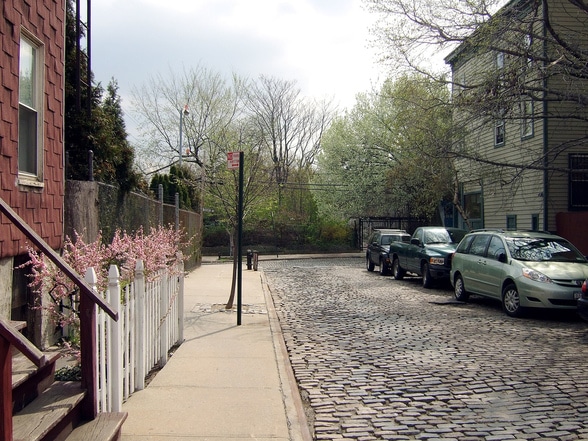 Vinegar Hill, Brooklyn
by nabewise
Infomation
Vinegar Hill is a very small, historic waterfront district between the navy yard and DUMBO in Brooklyn lined with beautiful cobblestone streets. Home to some 19th Century Federal style homes as well as some neo-classical homes, Vinegar Hill is one of the most charming nabes in Brooklyn. Residents enjoy close access to Brooklyn Bridge Park, but transit's a bit of a squeeze sometimes–many folks rely on cars here.
Top Votes – Score out of 100
Families 81
Quiet 75
Green space 75
Community 66
Public Schools 63
Lowest – Score out of 100
Clean 38
Singles 38
Empty nesters 38
Seniors 21
Income 18
Top Reviews from Travel Rentals Neighborhoods
Expensive for what it is

I was planning a move to the area because I heard it was cool but it seemed pretty overrun by yuppies which is lame. Some of the areas had that rough feel to it that I was looking for but it was just another really expensive, gentrified little area. I liked how close it was to Manhattan and all but the fact that the only train to the area was the F was kind of useless for me too. You might be able to pay me to live here but if since I'm footing the bill you can bet I'm moving elsewhere.

Tom B.
I was living here for a while and it wasn't that bad but there aren't really any schools in the area and my kid is getting to the age where that is a priority. We moved to Kips Bay which is a good match for us since we kind of liked Vinegar Hill. My boyfriend and I are fairly slow-paced people so that might be telling since we liked Vinegar Hill. Don't rule it out because of the yuppies, if you can afford to live here it is not a bad place to live at all.Amanda T.