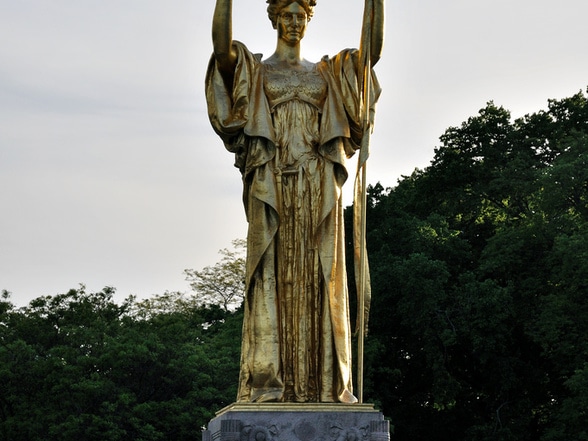 Infomation
This south side nabe has undergone quite the transition in the past few years. Once suffering from a relatively shoddy past, Woodlawn's undergone a great revival: it's home now to some bustling streets, lovely small parks, and even an award-winning farmers market. The change is due in part to University of Chicago, who has increasingly been expanding their southern campus into Woodlawn. Locals here are long-time residents filled with pride for their nabe—ensuring that Woodlawn's original character will stay vibrant and alive while mingling with U of C at the same time.
Woodlawn, Chicago Data : Neighborhoods & Travel – Score out of 100
TOP ATTRIBUTES
Community 79
Public Transportation 67
Blue Collar 67
Green space 67
Parking 63
LOWEST ATTRIBUTES
Seniors 48
Nightlife 42
Shopping 42
Families 42
Income 9
Woodlawn, Chicago Reviews
College vs. Community?
The relationship between Woodlawn and the University of Chicago is definitely something to watch—is it mutualistic? Or is one of these players taking advantage of the other? Contraversies surrounding Woodlawn's community gardens (re-claimed as building space by U of C), and the growing amount of U of C structures giving Woodlawn a bit of a skyline make me wonder about what kind of relationship a college should have with its surrounding community.
Whatever the controversy, this is a cool nabe to visit. It seems like there's more going on here than in Hyde Park to the north, where U of C has its main campus.
Amanda M
Nabe On The Rise
The Woodlawn community is bounded by Lake Michigan on the East, Martin Luther King Drive on the West, 67th street on the south, and sits directly north of Hyde Park. The neighborhood is famous for helping to play host to the 1893 Chicago World's Fair, which was hosted in nearby Jackson Park and along the Midway Plaisance, the mile long park which separates Woodlawn from Hyde Park.
Woodlawn use to be the home of many professors at the nearby University of Chicago and was considered an affluent neighborhood. Over the 60's and 70's however changing demographics shifted the makeup of the neighborhood, making it working class and predominantly African American.
The area use to be home to a number of bustling jazz clubs, located all along 63rd street through the heart of the neighborhood. A decline in the neighborhoods population and affluence unfortunately forced many of these clubs to shutter. But there are still options for those who find themselves thirsty in Woodlawn. Check out the Paradise Lounge, located 64th and Cottage, for cheap drinks, a local crowd, and plenty of R&B and soul music to get your groove on. For a more relaxed setting try Ray's Lounge, located at 4586 E. 61st, a local pub style bar where you'll find darts, good specials, and a friendly atmosphere.
For outdoor recreation make sure to head to Jackson Park. Take a walk around the lagoon or pack a picnic and bring it to the meadow. If you're feeling more active then get over to the Jackson Park golf course and buy a bucket of balls for the driving range or take in a round on the beautiful and well designed course. For those fond of two wheeled transportation, checkout Blackstone Bicycle Works, located at 61st and Blackstone. They sell refurbished bikes at very reasonable prices, and support the community by teaching local kids how to repair bikes and earn one for free by volunteering their skills in the shop. The historic 63rd street beach house is also a good bet for the summer months.
When you get hungry, head over to Harold's Chicken at 64th and Cottage Grove. Harold's is a South side institution with a number of branches, and this is one of the best. Get the half dark, which comes with fries, bread, and 'slaw and covered in hot or mild sauce according to your preference. If your looking for more of a home style meal, head to the family owned Ma King's Soul Food on 66th and King drive. This joint serves up traditional soul food at very reasonable prices and treats you like family from the moment you walk in the door, just make sure you come hungry.
For housing Woodlawn offers a number of options. The neighborhood has been experiencing a redevelopment push, especially with the completion of the new University of Chicago dorm just south of the Midway. The University of Chicago Police has also relocated its headquarters nearby, and has expanded coverage south to 64th street. This means that there have been a large number of condo renovations as well as new town-home construction. Both types are readily available for both purchase and rent. Apartments are also available, through smaller landlords and MAC Property Management.
While Woodlawn has been and will continue to stabilize and regenerate, there can still be safety concerns, especially at night. Traveling with friends and using a little common sense should keep safe, but make sure to consider this when moving or visiting Woodlawn.
As for how you'll get there, the neighborhood is easily accessible by public transit or car. The Green Line will let you off at the 63rd and Cottage Grove station, right in the middle of Woodlawn. From there the #63 bus will take you East or West along 63rd street. The Metra University Park line also runs through Woodlawn, with a stop on 63rd street. The #6 Jackson Park Express runs through the Eastern end of Woodlawn and offers fast access to Michigan Avenue downtown. For those driving the neighborhood is easily accessible off Lakeshore Drive as well as 90/94.
Will V.