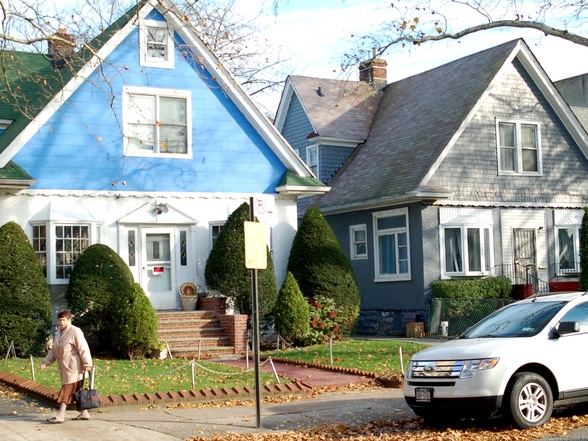 Flatbush, Brooklyn
by nabewise
Infomation
Sandwiched between a cornucopia of small nabes–including Kensington to the west and Prospect Lefferts Gardens to the north–this residential north central Brooklyn nabe is home to various commercial strips. This area is a stout brew of assorted residents and every kind of delicious cuisine you could dream up. Locals can jump on multiple subway trains and buses and be in Manhattan within a half hour. Flatbush is well known for hosting Erasmus High School, which was built over two hundred years ago and has scores of famous graduates.
Top Votes – Score out of 100
Gentrifying 83
Public Transportation 69
Pet friendly 67
Nightlife 56
Dining 56
Lowest – Score out of 100
Parking 38
Community 33
Seniors 33
Income 4
Singles 0
Top Reviews from Travel Rentals Neighborhoods
Flatbush East

How is this neighborhood? We are thinking of moving there…any comments are welcome. I saw day care, how are the schools?

What's awesome

The housing stock looks nice

What's not so awesome

sara
Flatbush The Hollywood of Ghettos

"Little Boxes" aka million dollar homes 40×100 feet crammed a driveway width next to each other but don't write off Flatbush just yet. In addition to Brooklyn's Finest NYPD, community employed :security patrol the streets 24/7, so don't be afraid to let your children walk home from school. All four seasons are experienced here:leaves, snow, rain, and SUNSHINE. Ethnic cuisines reflect the melting pot of Brooklyn. Subways connect this small residential neighborhood to the infinite business opportunities of Manhattan.

Marc D.
Flatbush's Hidden Charm

Although many people who are only accustomed to suburbia would balk at the possibility of living in the Flatbush neighborhood of Brooklyn it still holds a hidden type of charm which one would not realize unless he or she were to closely inspect the neighborhood. The flatbush neighborhood is the home to a large variety of ethnic minorities which has resulted in an endless supply of business which cater to specefic nationalities which are a haven for wonderful new culinary and cultural delights for those who are adventurous and willing to explore. Although many areas in the neighborhood have eroded physically, the architechture and layout of many areas creates the feel of a classic New York setting which can be peasceful in a often chaotic area. The nicer areas of the flatbush neighborhood typically are centered around collections of single family houses and duplexes while the areas that are mainly large apartment buildings tend to have a less welcoming feel. Since the flatcush neighborhood is a typical New York city neighborhood it is connected with very efficient public transportation in the form of buses and the subway. Public transportation is an ideal way to visit any of the nearby points of interest like prospect park, the botanical gardens or a quaint farmers market which can be found at nearby Grand Army plaza on Saturdays in the summer. One may be concerned at the safety of the neighborhood but if proper precautions are taken as with any city it is possible to discover a very lively interesting part of new York. Flatbush is not as expensive as Manhattan or Queen's but housing prices do vary based on the quality of housing. Because of the availability of nearby hotels and ready public transportation one should at least consider a visit to the flatbush area because it contains many hidden jewels for cultural explorations, shopping, and entertainment.

Dexter K.
Flatbush is a really cool place to live. There is a huge emphasis on using locally grown produce. You can get to and from Flatbush by subway or bus with ease.w