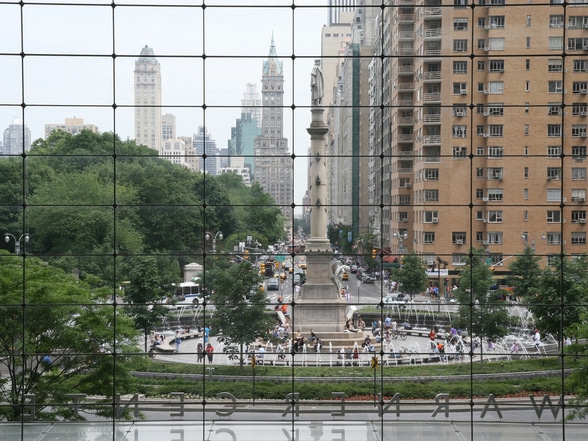 Columbus Circle
by nabewise
Infomation
A landmark NYC destination, this nabe takes its name from the circular drive and towering Christopher Columbus monument at its center. The circle is filled with mainstream amenities: numerous subway trains, luxury hotels, luxe shopping and dining in the massive glass Time Warner Center, and one of the largest entrances to Central Park. In the daylight, Columbus Circle is a thriving mix of suits and tourists. It's relatively quiet at night though, especially on side streets. This nabe's an ideal space for midtown business-folk or movie buffs who want some bragging rights—Columbus Circle is one of the most-filmed NYC spots on the big screen.
Top Votes – Score out of 100
Green space 92
Shopping 86
Dining 86
Safety 86
Gentrifying 83
Lowest – Score out of 100
Pet friendly 50
Seniors 50
Quiet 35
Community 29
Parking 8
Top Reviews from Travel Rentals Neighborhoods
Great Places to See

There are great views around Columbus Circle, it is a wonderful place to bring someone you are trying to impress.

There are many hotels around this region, and many great restaurants. Don't miss checking out the Time Warner center – it's like an NYC mall.

Try out Marea for dinner, it is a French style restaurant with delicious seafood and a good wine menu.

Although there are some tourists, you will still find a great community in this nabe.

What's awesome

Time warner building, views

What's not so awesome

Richard H.
commercial columbus circle–you're fun sometimes, but I'm not in love

This nabe always makes me feel like the manhattanite I'm not for a few minutes (you know, the one that pays 4 bucks for small coffees, shops gucci, takes cabs to from scheduled events, owns multiple pairs of heels). It's kinda fun—like role playing, like being back in drama club. But inevitably, after a while here, I start to freak and retreat into Central Park.

Katie P.
The Columbus Circle profile has been raised by the Time Warner Center and its great mix of shopping and restaurants. You also can't beat its location right on the park. It's the doorstep to the Upper West Side and a few steps from Lincoln Center and all of its entertainment.Gabriel B.
Classy Columbus Circle

Hugging the Southwest end of Central Park, Columbus Circle is one of the most exclusive neighborhoods in NYC. Pricey RE values can be justified here as the unbeatable combination of park access, numerous dining/nightlife options, and several intersecting subway lines satisfy the most meticulous of movers/visitors.

Trains, cabs, buses or horse carriages all stop here so you'll never be out of transportation options. Lincoln Center, with its crown jewel – the Metropolitan Opera House, is a few blocks away. If three-hour long performing arts events aren't your thing, MObar at the Mandarin Hotel or the Empire Hotel Rooftop provide laid-back (but NY-cool) options for a drink any day of the week.

And, of course who can forget the restaurants in Time Warner Center? The famous Chef Masa who can be seen still working behind the bar at Masa (and its more casual sibling – Bar Masa), the incredible views of Per Se, and of course the Parisian vibe of Bouchon Bakery are all fabulous options.

One of the recent (and the best!) newcomers to Columbus Circle is the Museum of Modern Art & Design (MAD) located at 2 Columbus Circle. However, if five floors and over 54,000 SqFt of art sounds like nothing but a long hike, then take the elevator straight up to the retro-sexy Robert, a restaurant on top of MAD that overlooks the circle and the park.

Diana S.
This is an exclusive and very convenient place to live

Super expensive real estate here due to the fantastic access to Central Park and some amazing real estate developments in the area.

I used to work here, and it's very busy and bustling in the day especially, and even still in the night. There is a Whole Foods in the Time Warner Center along with other shops like a Borders and a Williams Sonoma.

Public transportation is fantastic, and you have easy access to uptown and downtown. Access to the Lincoln Center and the Theatre district make this a great area for empty-nesters especially.

All in all a great place to live if you can afford it.

Ann Montgomery