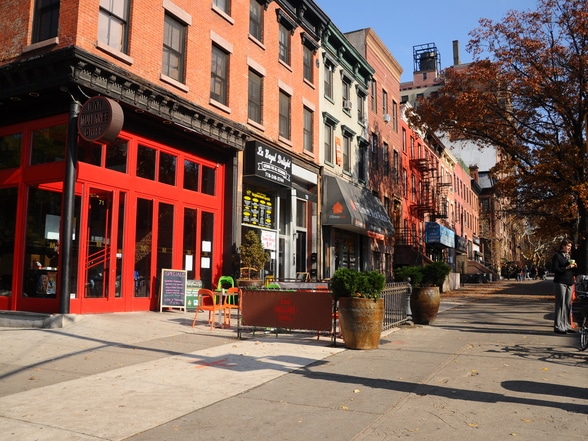 Fort Greene, Brooklyn
by nabewise
Infomation
Fort Greene is a tree-lined neighborhood in northwest Brooklyn in between Clinton Hill, Downtown Brooklyn, and the Brooklyn Navy Yard. Home to many cultural landmarks–such as the Brooklyn Academy of Music–Fort Greene is a place rich with culture. The nabe borders the Atlantic Avenue Terminal mall, which provides plenty of access to shopping and trains. Fort Greene is also home to a slew of great restaurants, a farmer's market, and a summer flea market that is sure to fit most tastes.
Top Votes – Score out of 100
Artists/Creatives 95
Dining 88
Liberals 83
Families 83
Safety 80
Lowest – Score out of 100
Parking 63
Seniors 54
Shopping 50
Quiet 50
Income 8
Top Reviews from Travel Rentals Neighborhoods
Gorgeous and still changing…

Fort Greene is definitely one of the miracles/tragedies of gentrification, depending on which side of that fence you're on. The streets here are postcard-level gorgeous, and it's right in the middle of brownstone Brooklyn. Though the transformation of the neighborhood is pretty much a fait accompli, gentrification tension is still present. The upside of this is you get an environment that is not just diverse, but where diversity is prized. People can be genuinely cool to each other here rather than just pretentiously hip. You'll probably see more interracial couples, of all kinds of different combos, here than anywhere else, and there's definitely a come-one, come-all feel to lots of the nightspots. The food/drink offer also has that overtly foody Brooklyn feel to it, which is nice. True to it's destination status, there's an increasing number of pricey baby strollers on the sidewalks of Fort Greene these days.

NYC L.
Brownstones and Neon Leggings

This neighborhood is gloriously diverse (racially, cultural, socioeconomically.) It's very Brooklyn (you'll see a lot of Ray Bans and neon leggings at the Farmer's Market whilst the shoppers pick out organic, free range eggs and store them in their eco-friendly, crotched, etsy purchased tote bags.) You'll also find a upper middle class black scene here that's missing in a lot of American cities all together. There are loads of great restaurants, although I've found most of the best ones are a more "high end" dining experience. Which is to say this neighborhood is still lacking in delicious cheap neighborhood eateries. The same can be said for the shopping. While there are some very cool, very eclectic boutiques, if you haven't got upwards of $300 to drop on a dress, you might be out of luck. Of course there is a the stuff in Atlantic Terminal (Victoria's Secret, Marshalls, Etc.) but I hardly would think a bunch of massive chain retail giants are worth mentioning. Any review of this neighborhood that didn't mention the breathtaking rows of brownstones and slabs of stone sidewalks, recalling Old New York, would be woefully remiss. It's a thing that makes this neighborhood much more beautiful than many other parts of Brooklyn.

Rach H.
Diverse and Perfect

Fort Greene is shaping up to be one of the most diverse neighborhoods in New York City. A mix of upper class professionals of all various ethnicity, a growing student scene at nearby Pratt, Long Island University, and St. Joseph's, and a incoming population of families with young children from all backgrounds.

Additionally, a top-notch dining scene is emerging on DeKalb Avenue and to a lesser extent on Myrle Avenue serving food from dozens of different nationalities which makes leaving the neighborhood for excellent meals no longer a necessity. Transportation options are diverse depending where in Ft. Greene you live and what train you need to take. A 10-15 minute walk gets you to pretty much any subway stop and it's a quick ride into Manhattan from there.

Bars range from those serving the just-21 crowd to more upscale speakeasys, and shopping caters mostly to independent fashionists and pet owners. The Ft. Greene Flea market is a great place to find old knick knacks and to support your local artists and entrepreneurs. The food at the flea market is just as good as the prices, so come with a hearty appetite.

Fort Greene Park serves the community well with off-leash dog hours, outdoor concerts and movies, weekly farmer markets, and international impromptu soccer games taking place in the main section during the warmer months. The park is excellent place for a stroll and is flanked by great coffee shops and Brooklyn Tech High School on one side and government housing on the other to complete the diversity of Fort Greene, making it an excellent mix of class, income, race, and age.

This neighborhood usually falls in the top places I recommend to live for newcomers who are looking for a great Brooklyn experience, but want to be close to Manhattan at the same time. Newly built high-rise condos are catering to the wall street crowd and as such may add an additional layer to the mix of Ft. Greene that is constantly battling gentrification and historical preservation at the same time.

A C
Love this area

I have been down to Fort Greene a number of times and I love it. BAM shows great movies and the food is great, I was particularly fond of Der Schwarze Kolner. During the summer there is even a sweet free film series at a bar in Fort Greene. The people seem to be really nice there and I plan on looking into some real estate here pretty soon. There are a ton of famous residents in and around here too, like Mos Def, They Might Be Giants, and Robert Mapplethorpe. Fort Greene is kind of the Chelsea of Brooklyn complete with a gay-friendly/alternative lifestyle community.

Nick G.
Here I WIll Someday Start A Family

A had bought a Bocce ball set from a yard sale and so a few friends and I walked over to Fort Greene park to play. It was autumn and just starting to get nippy, but we still played game after game taking in the beautiful assortment of colors the leaves had changed into. From there we walked to a truly unique Cuban restaurant called the "Habana Outpost." My friend talked me into getting just corn on the cob. I tried to fight it, but she said, "Trust me." Boy, was she right. It was only $3 for a great piece of seasoned corn that really filled me up. There must have been seven different spices on this piece of flame-cooked corn including graded cheese. I saw a little girl with her family. She had a pet pigeon on a string. It was the most adorable thing I had seen since my girlfriend dressed up our two kittens to look like pumpkins for Halloween.

We walked around and saw one great restaurant and grocery store after another. A beautiful new bookstore called, "Greenlight Bookstore," stands on the corner of Fulton ST and Portland AVE. Inside you can warm up with local, bestselling, and just plain interesting new books. The people are friendly and the music on the stereo is always slightly off from the mainstream.

Fort Greene feels like a place I need to move to when I'm ready to start a family. Parents with strollers roll down and run into other parents with strollers they know. The children play as their Moms and Dads gather gourmet ingredients to make dinner. The prices are higher here than in other areas of Brooklyn, but the quality is superb.

We ended our tour of Fort Greene with a drink at a local German brew house called, "Der Schwarze Kölner." There we indulged in grand pints of ale and relaxed with the quiet hum of people enjoying themselves.

Jade S.
Like most people I have been priced out of Manhattan but the overwhelming amount of gentrification in the borough allows me to move without changing my lifestyle too much. One of the coolest places I've found is in Fort Greene and I will be moving here when my lease is up in 2010. Lots of stuff to do and things to see around here and if you can't find it here you're real close to Manhattan because there are a million trains which service the area. Fort Greene rules!Joey H.